Makes 2 Servings
WINE PAIRING
Pinot Grigio
Simple to make, but quite elegant, this refreshing salad is the perfect side dish or starter for summer days. You can even serve it with chopsticks for an added bit of novelty.
You could easily double or triple this recipe to make more servings.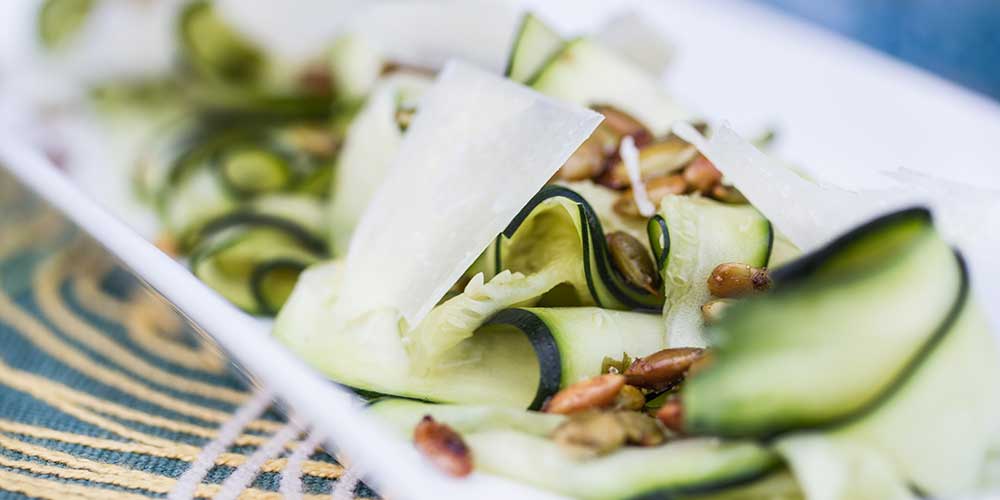 INGREDIENTS
1 Zucchini

1 tsp Honey Wine Vinegar

1/2 tsp Austrian Pumpkin Seed Oil

½ tsp Extra Virgin Olive Oil

1 oz Parmigiano Reggiano or Pecorino Cheese, thinly shaved

Sea Salt
DIRECTIONS
1
Slice the zucchini paper thin using a
mandoline
, v-slicer, or y-shaped vegetable peeler.
2
Lay out the zucchini slices on a counter, cutting board or baking sheet. Sprinkle them lightly with sea salt and let them sit for ten minutes.
3
After ten minutes, gently move the zucchini to a bowl. Add the vinegar, olive oil and pumpkin seed oil. Gently toss to coat the zucchini.
4
Arrange the zucchini slices on plates or a serving dish.
5
Sprinkle on the toasted pumpkin seeds and shaved cheese. Serve.