SEARED OSTRICH MEDALLIONS WITH SQUASH & POTATO GRATIN & BACON RAOSTED BRUSSELS SPROUTS
Makes 4 Servings
WINE PAIRING
Australian Shiraz or South African Pinotage
We've seared these ostrich medallions piccata-style sauce and paired them with bacon-laced brussels sprouts and an amazing squash and potato gratin.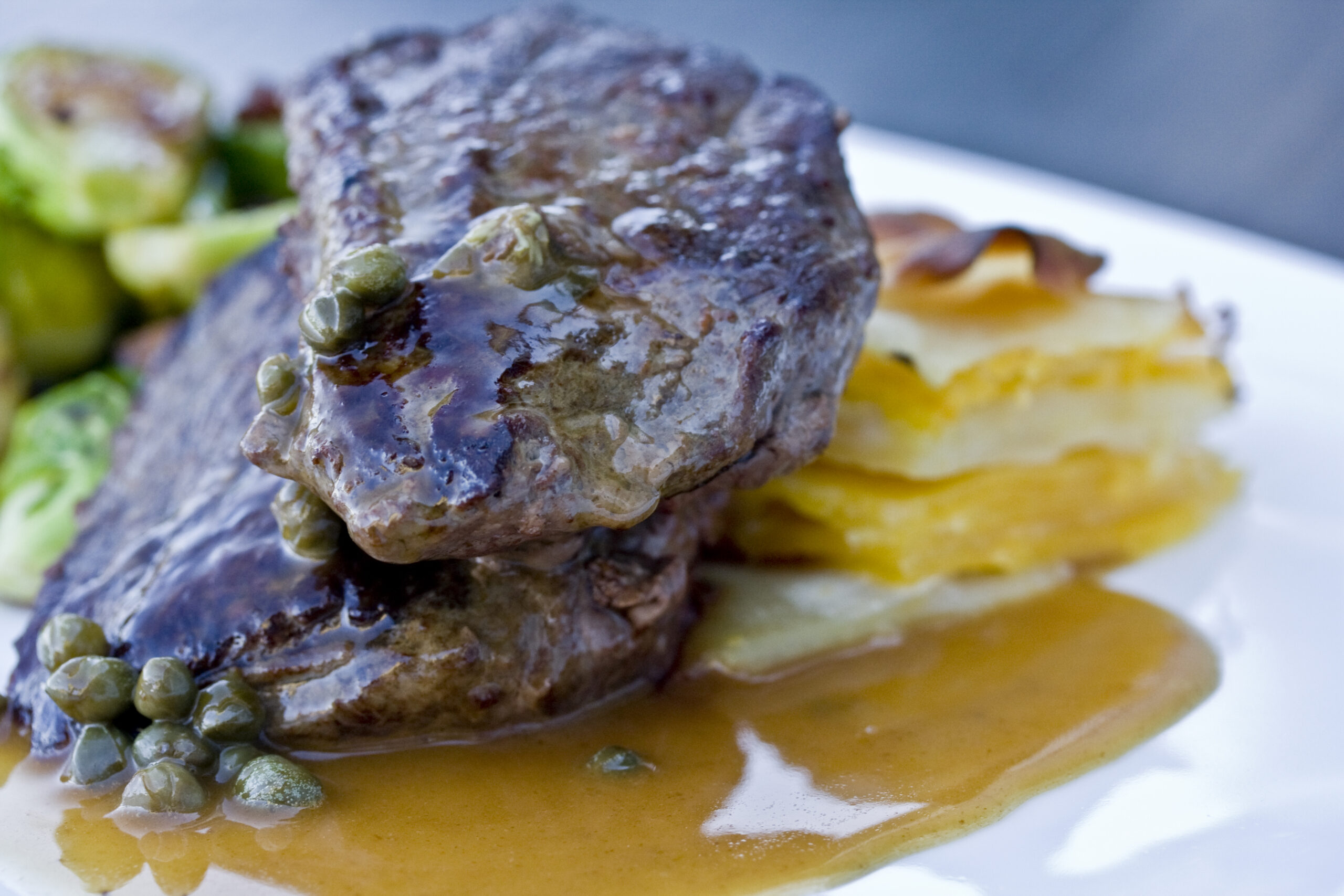 INGREDIENTS
4 ostrich medallions (cut from an ostrich fan fillet)


1 squash (we used butternut squash)

A small handful of yellow finn potatoes, or 2 Yukon gold potatoes

1 cup heavy whipping cream

2 strips thick cut bacon (Kurobuta hickory smoked bacon works well)

1 lb fresh brussels sprouts

½ lemon

½ cup white wine

1 tbs capers (salt-packed are ideal)

Unsalted butter

Peanut oil
DIRECTIONS
1
Preheat your oven to 375.
2
Peel Yukon gold potatoes and squash. Slice thinly using a mandolin or v-slicer (in a pinch you can use a knife, but it will be difficult to keep the slices thin and regular).

3
Shingle (the top of one slice should lie halfway up the preceding slice) alternating layers of potato and squash in a baking dish. Season each layer with salt and a little pepper. Press down on each of the layers to compress them before adding the next.

4
Pour hot cream (cold can be used, but you'll get a faster/better result with hot) over the top, trying to get as much to trickle down as possible.

5
Bake in the oven for about an hour. If you're having difficulty getting the top of your gratin to brown, you can turn the oven up to 425-450 at the end to brown the surface.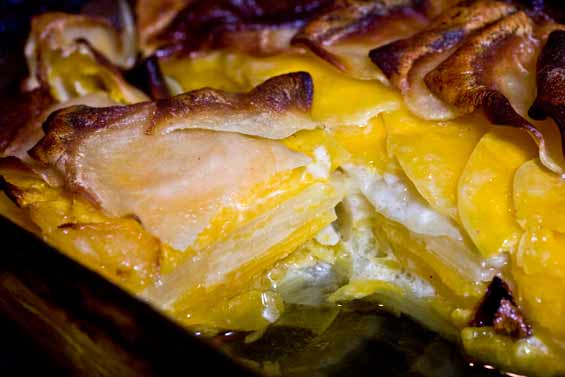 For the Brussels sprouts:
1
Clean the brussels sprouts. Remove a few of the outer leaves and a small amount of the woody stem from each sprout. If they are especially large, halve to match mass with the smaller sprouts.

2
Slice the bacon into batonnets (small sticks) and render out the fat in a large pan over medium heat.
3
Remove the bacon from the pan once it has become crispy and reserve for a garnish, leaving the bacon fat in the pan. Sauté the sprouts in the rendered fat, 2tbs of butter, and a pinch of salt. Turn them as they caramelize to brown evenly on all sides. When they are finished remove them from the heat and sprinkle in bacon bits prior to plating.

For the ostrich medallions:
1
Sear the ostrich medallions in a hot pan in peanut oil. Be careful, ostrich is extremely lean and thus cooks very quickly. Cook on one side for 5 minutes, flip and let the other side finish with the residual heat in the pan. When finished remove the ostrich from the pan and let the meat rest while building your pan sauce.
2
Return the pan to the heat and squeeze in half a small lemon's juice with the white wine to deglaze the
fond
.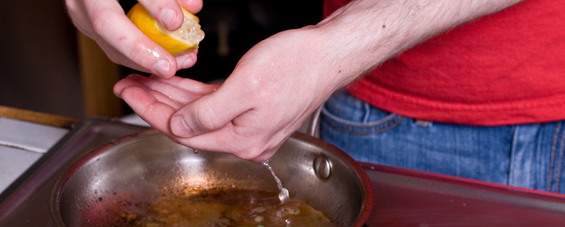 3
Rinse
capers and add to pan. Let the sauce reduce considerably before adding a pat of butter (this is called
monte au buerre
) to thicken, add gloss and richness to the sauce.
Serve the ostrich medallions topped with the pan sauce and with potato and squash gratin and Brussels sprouts on the side