Searing fish (called tataki style in Japanese) is a technique that allows you to add a flavorful cooked crust to your sashimi for contrasting flavors and textures. We've paired the sushi-grade ahi used in this dish with a fresh wasabi vinaigrette and wasabi smashed potatoes. You can omit the potatoes and serve smaller portions of the ahi as an appetizer.
It is important to use sushi-grade fish, as the middle of each steak will be quite raw.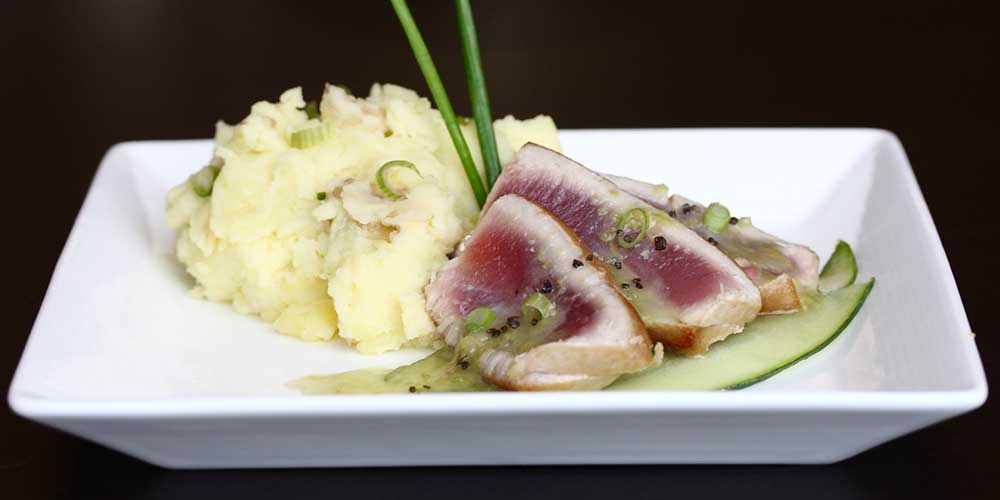 INGREDIENTS
4 5oz Sushi Grade Ahi Tuna Steaks

Sea Salt to taste

1 bunch of scallions or Japanese green onions (negi)

Peanut or grapeseed oil
DIRECTIONS
1
Heat an oiled (grapeseed or peanut oil) cast iron skillet until quite hot. Finely slice the scallions. Dry the ahi tuna steaks and lightly season them with sea salt.
2
Add the ahi tuna steaks to the skillet,
sear
ing them on each side just until a golden brown crust is formed.
3
Remove the steaks from the heat, and slice them into ¼ inch thick slices, following the grain of the fish.
4
Plate the ahi steak slices topped with the sliced scallions. Drizzle on the wasabi vinaigrette or sauce of your choice. Serve.
Flavor Variations:
You could also crust the tuna with
spices
or
chile powder
prior to searing it. We recommend using just enough to accent rather than overpower the flavor of the fish.
Additional Presentation Idea: Use a vegetable peeler to cut long, thin strips from a cucumber, and use them to add extra color and refreshing crispness to your dish.