Scallop & Dungeness Crab Cakes
Makes 4 Appetizer Servings
This is perhaps the most luxurious crab cake recipe we've developed yet. The filler/binder in these cakes is actually pureed scallops, which gives them a firmer consistency and bolder seafood flavor while accentuating the crab's sweetness.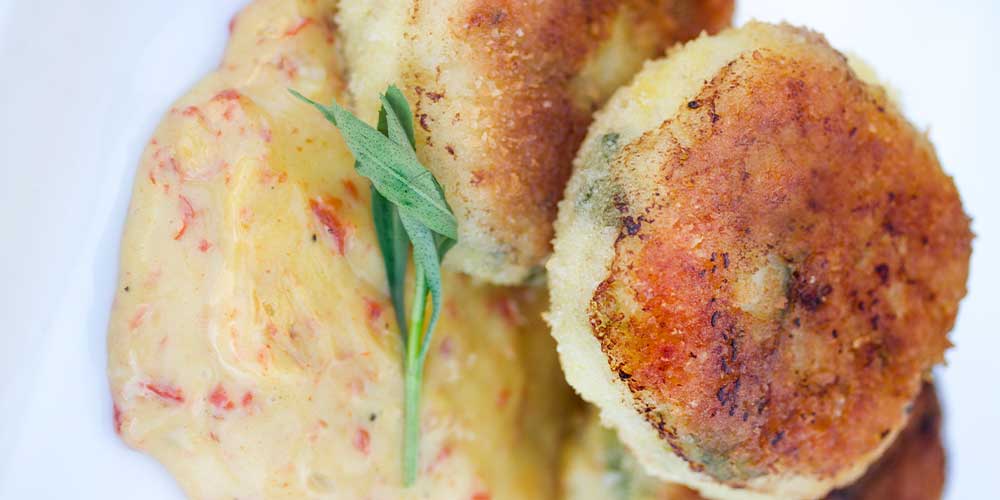 INGREDIENTS
2 cups Lump Dungeness Crab Meat (could substitute other crab)

1 cup minced Onion

4 tbsp pureed Scallops (made in a food processor)

2 tbsp Heavy Cream

2 tsp Fresh Tarragon

Cracked Black Pepper

Light pinch of Salt

4 tbsp High Heat Oil

All Purpose Flour

Egg, beaten

Panko Breadcrumbs, crushed or pulsed in a food processor
DIRECTIONS
1
Preheat your oven to 350 degrees.
2
Gently stir the crab meat, onion, scallops, tarragon, pepper, salt and heavy cream together in a bowl until combined.
3
Form the mixture into 2-tablespoon cakes. Roll each cake in the flour, then the egg, then the panko.
4
Optional: Freeze the breaded cakes for later use (remove them from the freezer later and cook while still frozen).
5
Put the oil in an oven-safe nonstick pan. Heat the pan just until it starts to emit white smoke (not black smoke).
6
Put the crab cakes in the pan, cook them on both sides just until browned.
7
Move the pan to the oven and bake until the crab cakes are cooked through.