Grass-Fed Roast Beef Sandwich
This roast beef sandwich is the sort of thing you'd see served at lunch in a fine restaurant, but really isn't that complicated…especially if you've got leftover roast beef.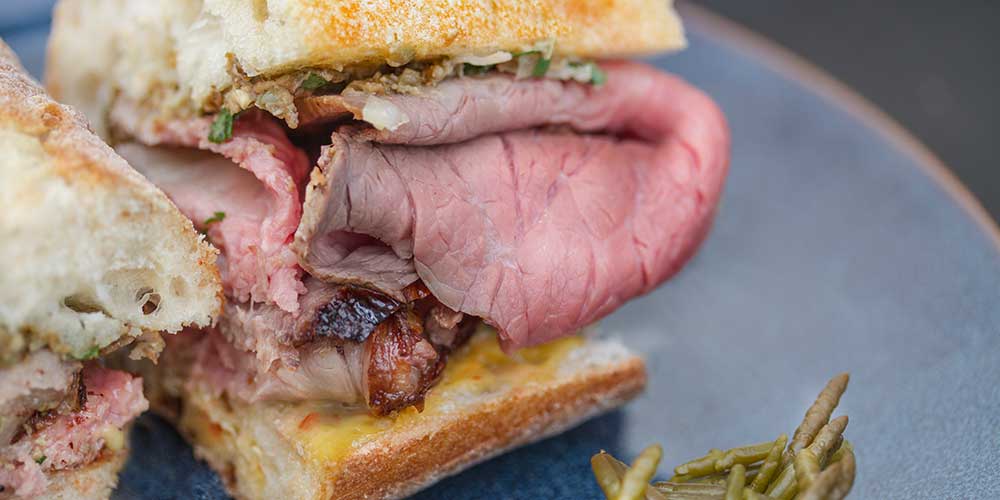 INGREDIENTS
Peppadew Aioli:

6 Spicy Peppadews, minced

½ tsp Dijon Mustard

2 Egg Yolks, as fresh as possible

1 Garlic Clove, crushed

1 tsp Salt

1 tsp Fresh Lemon Juice

¼ tsp Fresh Ground Pepper

Up to 1 ½ cup Olive Oil
DIRECTIONS
1a
Stir the salt into the egg yolks with a whisk. Whisk in the mustard, lemon juice, garlic & black pepper.  Slowly drizzle in the oil, while whisking constantly, until the mixture reaches a mayonnaise consistency.
1b
How much of the 1 ½ cup oil you use depends on the egg yolks and your preferred consistency.  Don't feel obligated to use it all.
1c
Once the mixture reaches a mayo consistency, stir in the peppadews.  Store the aioli in the fridge until you need it (up to 3 days).
2
Cut a baguettes into sandwich lengths (4 each) and split them down the middle.  Spread porcini relish on the bottoms and peppadew aioli on the tops.
3
Very thinly slice the roast beef.
4
Fill the sandwiches with roast beef.  Garnish the plate with some of the pickled sea beans and potato chips.  Serve.