Salmon & Clam Bouillabaisse
Makes 4 Servings
WINE PAIRING
Southern Rhone Rose
Rich pan seared salmon paired with a delicious bouillabaisse clam broth & crusty toasted bread spread with a saffron/black garlic mayonnaise.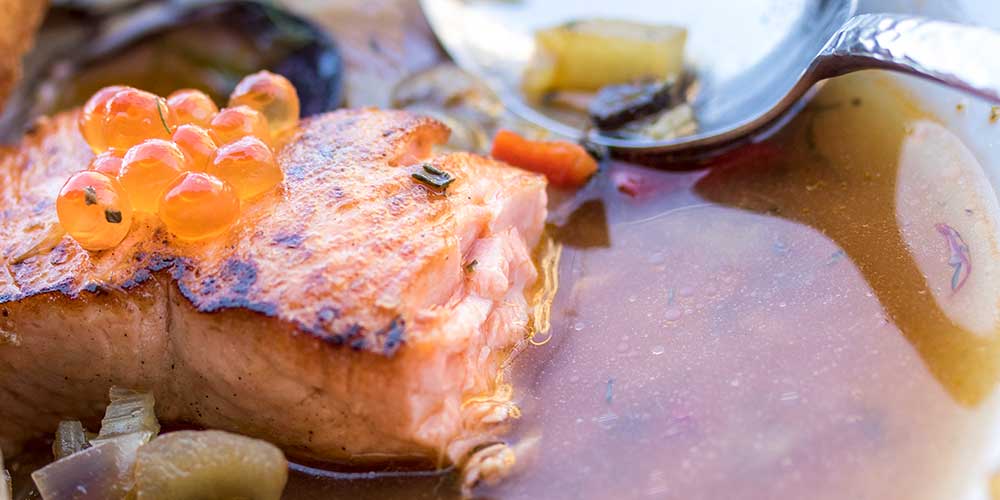 INGREDIENTS
1lb Wild Salmon (we used King Salmon), skin & pin bones removed
1lb Small Clams (manila or small quahogs)

3 tbsp Olive Oil

1 Onion, small diced

1 ½ cup small diced Fennel Bulb

1 stalk Celery, small diced

2 tbsp Tomato Paste

1 Bay Leaf

1 tsp Salt

¼ tsp Fennel Seed

¼ tsp Sargol Grade Saffron, bloomed in a small amount of hot water

1 long strip Orange Peel

1 diced Roasted Red Pepper

2 minced cloves of Black Garlic

¼ cup Pernod

1 quart Low Sodium Vegetable or Fish Broth

Juice of 1 Orange

Good Extra Virgin Olive Oil

Red Chile Flake to Taste
Plus:

Crostini/Toast/etc

Ikura & Dill Fronds for Garnish
DIRECTIONS
1
Rinse off the clams, discarding any that are open and won't close when pinched.
2
Put 3 tbsp of olive oil in a large, deep pot. Add the onion, fennel bulb, celery, bay leaf, salt, fennel seed, orange peel, tomato paste & saffron.
3
Cook until the onion is translucent & just starting to brown (about 10 minutes).
4
Deglaze
the pot with the Pernod, then add the broth, black garlic, and red pepper.
5
Cut the salmon into 4oz portions. Season them liberally with salt.
6
Sear the salmon, (former) skin side up. When the bottom is nicely caramelized, flip the fish and continue to cook until the salmon is cooked the way you like it.
7
When the onions are nice and tender (the broth has been cooking for about 20 minutes), add the clams.
8
When the clams have opened up, add the orange juice, olive oil, salt, and red chile flakes to taste. Discard the bay leaf.
9
Serve the salmon with the toast, rouille, and bouillabase, garnished with ikura and dill fronds.