Saffron & Black Garlic "Rouille" Mayo
This homemade mayo, inspired by a rouille sauce, is flavored with earthy saffron and complex, umami-dense black garlic. It can be used as a spread, condiment, or dip. Here we've served it with steamed artichokes. It'd also be delicious with roasted asparagus.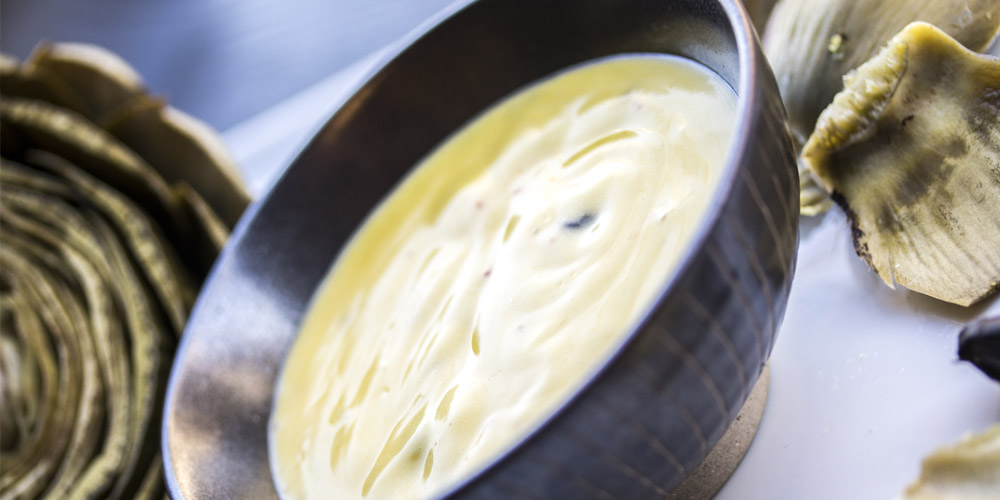 INGREDIENTS
2 cloves Black Garlic, finely minced
¼ tsp Sargol Grade Saffron

2 Egg Yolks, farm fresh, ideally nice & orange

1 1/2 tbsp Lemon Juice

1 ½ cup Neutral Vegetable Oil (canola, etc)

Salt to Taste
DIRECTIONS
1
Bloom the saffron in 1 tbsp warm water until the water is well colored.
2
Whisk together the egg yolks with the saffron/water mixture and lemon juice & salt to taste.
3
Slowly drizzle the oil into the egg yolk mixture while whisking, starting just a drop at a time, then slowly increasing from there to a thin but steady stream. Continue to add oil and whisk until a mayo forms with the right consistency (
you can also do this in a food processor
).
4
Mix in the black garlic.