Salmon Skin Amuse Bouche with Creme Fraiche, Dill, Pickled Red Onion, Lox & Ikura
Makes 4 Appetizer Servings

WINE PAIRING
Champagne
This dish takes extra/leftover salmon skin and turns it into perfect single bites that look absolutely gorgeous.  Between the crunch of the salmon skin chip and the smokiness of the lox, they evoke bacon.

Read what an amuse bouche is here.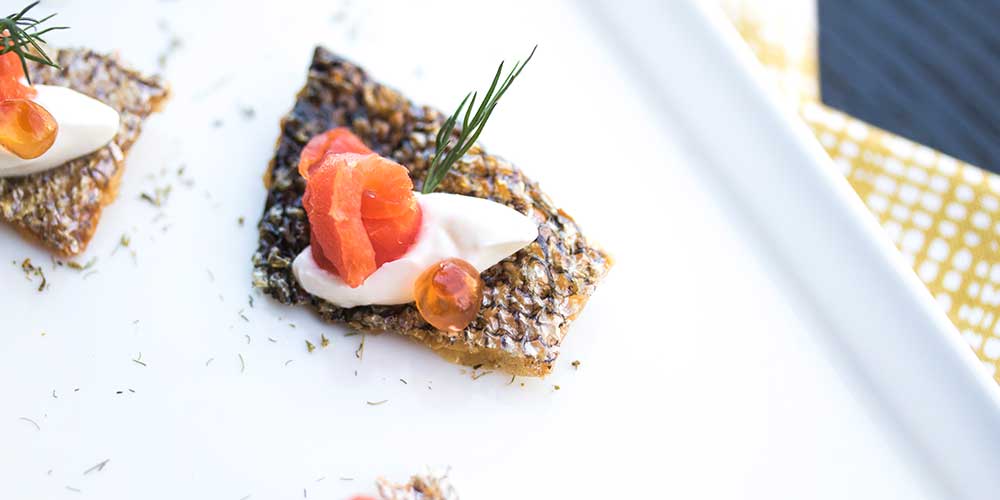 DIRECTIONS
1
Preheat your oven to 500°F
2
Scrape any clinging meat pieces off of the salmon skin.
3
Place the skin on a sheet of parchment paper on a baking sheet. Cover it with another piece of parchment paper.
4
Place another baking sheet and cast iron skillet on top of the parchment paper to weigh down the skin and keep it from curling.
5
Bake in the oven for 10 minutes. Then check the skin.
6
If the skin isn't completely crisped, return it to the oven (still covered with the baking pan, but you don't need the skillet) for another 5-10 minutes, checking occasionally. When the salmon skin is stiff as a board, it's ready.
7
Gently whip the crème fraiche to stiff peaks.
8
Let the salmon skin cool briefly, then cut it into small squares. Top each square with tiny quenelles of crème fraiche (how to make a quenelle).
9
Top each quenelle with a tiny twisted sliver of lox, a sprinkle of dill pollen, and a small dill frond. Finish with a single egg of ikura.