Roasted Porcini Salad w/ Lemon, Fried Capers & Salsa Verde
Makes 2-4 Small Plate Servings
WINE PAIRING
Sancerre or Gruner Veltliner
Porcini mushrooms are intensely savory and earthy. This salad balances them with citrus and a fresh, herby salsa verde.
Smaller porcinis work best in this recipe (you can get cleaner slices), so if you have a mixed bag, go with the smallest, best looking ones.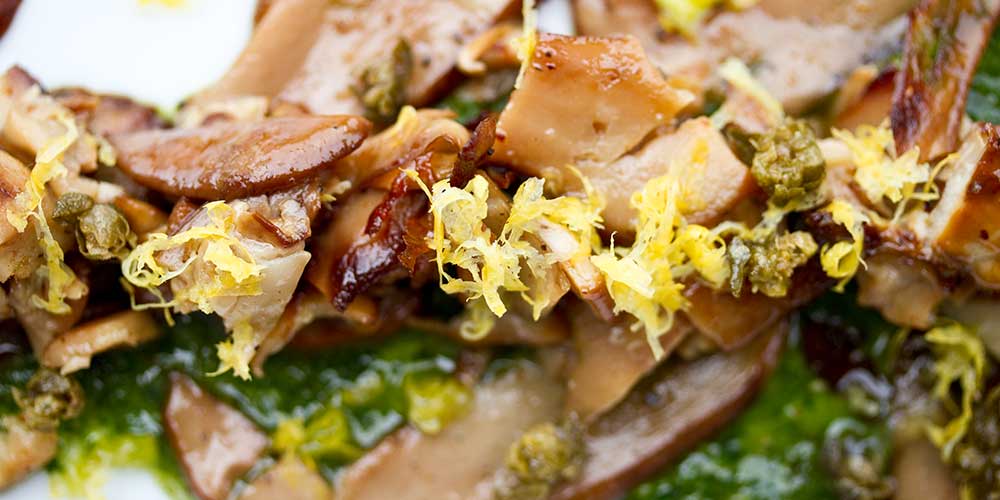 DIRECTIONS
1
Preheat your oven to 400 degrees.
2
Let the porcini mushrooms thaw just enough (about 10 minutes out of the freezer) so that you can slice them very, very thin (about 1/8" thick).
If they start to crumble when you try to slice them, let them thaw for another minute and try again.
3
Put parchment paper on a baking sheet. Lightly oil it with extra virgin olive oil.
4
Lay out the porcini slices on the parchment paper in a single layer. Brush them with extra virgin olive and sprinkle them with salt & pepper.
5
Cover the mushrooms with an additional sheet of parchment paper and an additional baking sheet.
6
Bake the porcini slices for 30 minutes.
7
Heat a small saucepan of oil to 350 degrees on the stove. Drain & dry the capers thoroughly, then fry them in the oil until crispy.
8
Drizzle the salsa verde down the center of the plate and arrange the prettier porcini slices on either side.
9
Chop the less pretty porcini slices and sprinkle them down the center of the plate.
10
Top the chopped porcinis with the lemon zest, fried capers and lemon juice.
11
Finish the plate with a drizzle of meyer lemon olive oil.