Roasted Chanterelle Mushrooms
This side dish is incredibly easy and really lets the beauty and flavor of fresh chanterelles shine.
Sweet spring onions, and earthy, full flavored chanterelles that have softened, but still have a good amount of crunch, are brought together with just a bit of herby bite from the tarragon butter. The total effect is smooth, comforting, and rich without being heavy.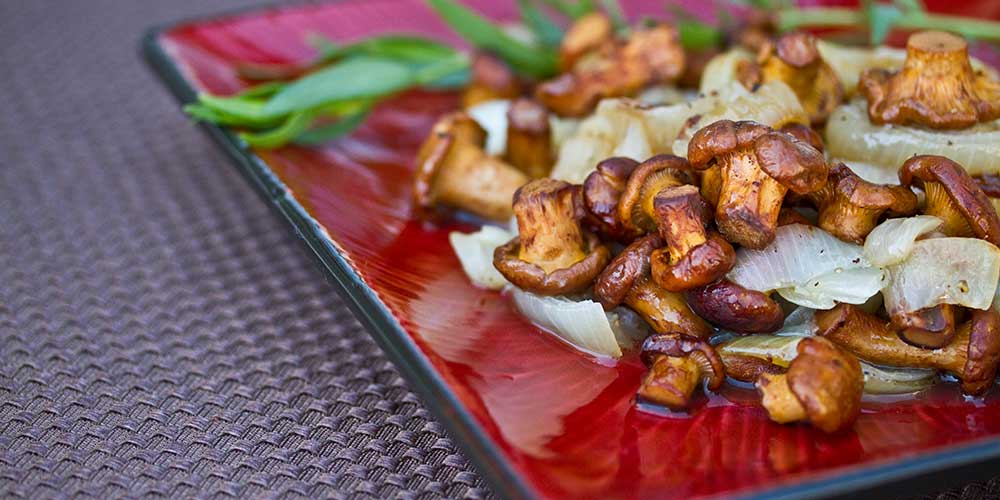 INGREDIENTS
Ingredients:

(Makes 4 servings)

1 ½ cups Fresh Chanterelles (you can't substitute dried Chanterelles for this, sorry, but other wild mushrooms, especially Porcinis, work very well)

2 large Spring Onions

3 tbsp of Unsalted Butter

3 sprigs of Fresh Tarragon

Salt & Pepper
DIRECTIONS
1
Preheat your oven to 350 degrees.
2
Cut the spring onions into half inch slices.
3
Clean the chanterelles.
4
Lay the spring onions in a large baking pan in a single layer.
7
Cover the pan with foil, and
roast
in the oven for about 40 minutes.
9
Taste for seasoning, and add more salt & pepper as necessary. Serve.