Rabbit, Mushroom & Shellfish Yakitori
This unconventional take on yakitori uses rabbit, clams & mussels to take the classic Japanese finger food in a new direction.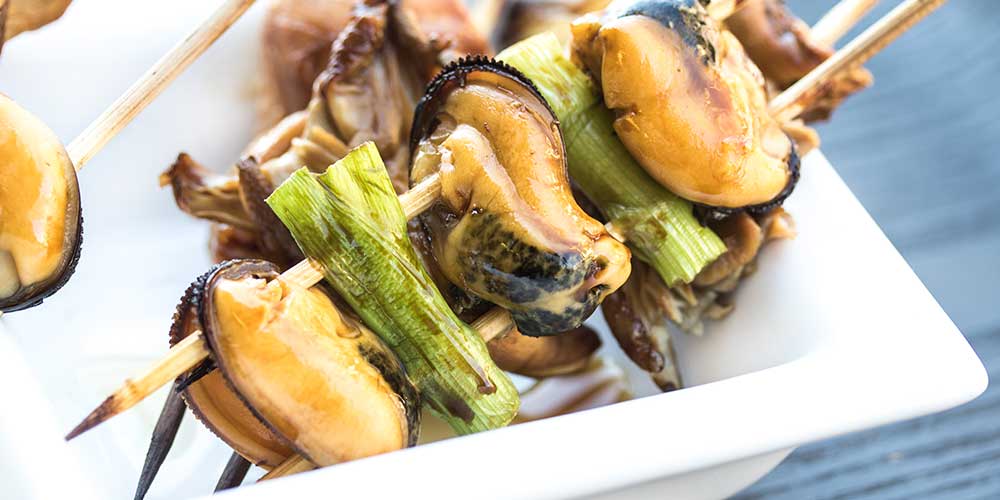 DIRECTIONS
1
Soak the skewers in water for at least an hour.
2
Put the mussels and clams in separate sauce pots, each with a ¼ cup of the sake. Steam them until they open and the mussel meats start to look dry, removing them in batches so they don't overcook.  Reserve the steaming liquid.
3
Remove the clam and mussel meats from their shells. Discard the shells.
4
Set your oven to broil.
5
Cut the rabbit saddle into two tenderloins with flap meat attached (
how to break down a rabbit
). Put a scallion top in the flap meat, drizzle it with a little of the tare sauce.  Wrap the flap meat around the tenderloin.
6
Slice the rabbit roulade into chunks, and double-skewer them to secure the flap to the tenderloin.
7
Double skewer the clam meat, alternating pieces with scallion bottoms. Do the same with the mussels.
8
Tear the oyster mushrooms into bunches & double-skewer them.
9
Lay all the rabbit skewers out on a wire rack on a sheet pan. Brush them liberally with the tare sauce.
10
Broil the rabbit skewers until cooked through. Check them periodically, brushing them with more sauce & flipping them.
11
Remove the rabbit skewers to a plate to rest, and load the rack up with the clam, mushroom and mussel skewers. Brush them with the tare sauce.
12
Broil the skewers briefly (the clams & mussels are already cooked through, oyster mushrooms don't need to cook much), flip them and brush them with more sauce.
13
When they're nicely browned, serve them with the rabbit skewers.