Saltimbocca with Marsala Sauce & Fried Sage
Makes 4 Servings
WINE PAIRING
Red Burgundy or Chianti
Generally chefs never cook rabbits whole because the loin meat cooks very quickly while the legs require slow roasting or braising.  Instead they fabricate them into different cuts (how to cut up a rabbit) and then cook them in separate recipes.
Rabbit loins are small and perfect for appetizers.  This recipe features the bright pop of pickled mustard seeds, deep flavors of the marsala sauce, the richness of prosciutto, a bite of fried sage & delicate rabbit meat.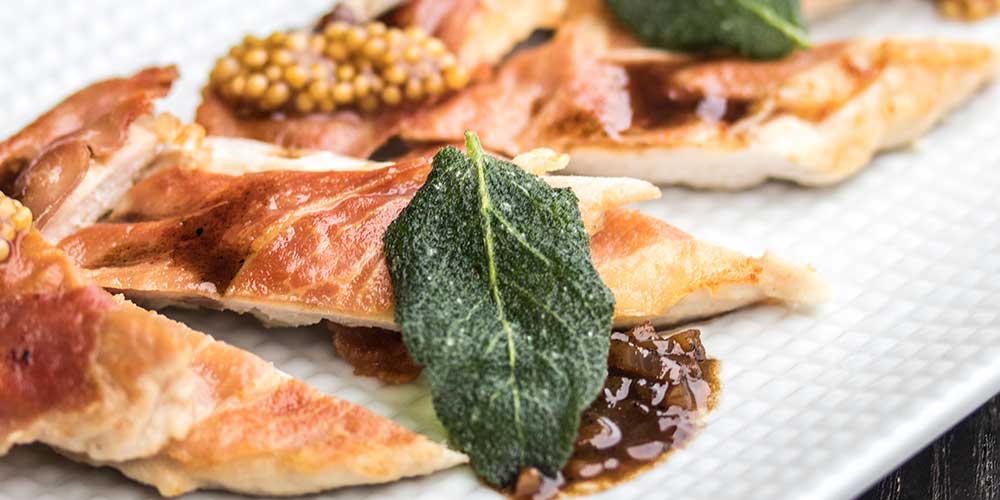 INGREDIENTS
4 Rabbit Loins cut from Whole Rabbits (use the legs and bones for other Rabbit Recipes)

2 slices of Prosciutto

All Purpose Flour

2 tsp Dijon Mustard

Black Pepper

Fresh Sage

High Heat Oil
Marsala Sauce:
2 tbsp very small diced (brunoise-cut) Shallot
½ cup Roasted Rabbit Stock (could substitute Chicken Stock)
½ cup Marsala Wine
¼ tbsp. Unsalted Butter
1 tsp Honey Wine Vinegar
DIRECTIONS
1
Pound the rabbit tenderloins into thin cutlets with a meat mallet.
2
Fry the Sage: Heat a ½ inch deep amount of high-heat oil in a small (but deep) sauce pan to 350°F. Add the sage leaves and briefly fry them until they darken (approx. 1 ½ minutes). Move them from the oil to a paper towel to drain and sprinkle them with a pinch of salt.
3
Brush one side of each loin cutlet with ½ tsp of the mustard. Lay a piece of prosciutto (cut to fit the cutlet) on top of the mustard.
4
Lightly coat each cutlet in all-purpose flour & pour a thin layer of high heat oil into a large skillet.
5
Gently lay the loins into the hot skillet, prosciutto-side down, then crack some black pepper over the top of them.
6
Cook the loins just until the prosciutto starts to brown and crisp up, then flip them & cook just until the other side is lightly browned. Take care not to overcook them – rabbit is so lean that they'll cook very quickly.
7
Remove the loins from the pan and add the shallot to the residual fat. Reduce the heat as necessary to sweat the shallot without browning it.
8
When the shallot is semi-translucent, deglaze the pan with the chicken stock and marsala wine. Stir to scrape the fond from the pan into the sauce.
9
Simmer the sauce until it has reduced to a ¼ cup in volume. Add the honey wine vinegar and butter, stirring until the butter is melted in.
10
Serve the rabbit loins with fried sage, the marsala sauce & the pickled mustard seeds.