Rabbit Meatballs with Porcini Tagliatelle
WINE PAIRING
Nebbiolo or Red Burgundy
This dish is packed with the savory earthiness of wild porcini mushrooms. The rabbit kidneys really add a lot of flavor to the meatballs, but you could leave them out.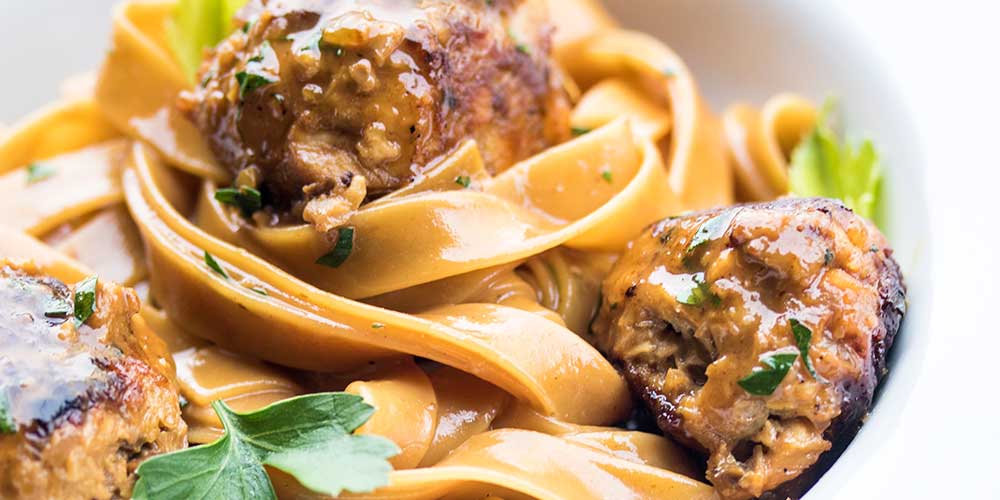 INGREDIENTS
1 package (8.8oz) Morelli Porcini Mushroom Tagliatelle

¼ cup of Heavy Cream

Leftover Braising Liquid from Porcini Braised Rabbit Legs

2 tbsp minced Flat Leaf Parsley, plus extra (if desired) for garnish

1 tsp Lemon Juice
DIRECTIONS
1
Pull the meat off of the rabbit legs, then shred & finely mince it.
2
Mix all the meatball ingredients together in a large bowl.
3
Mix all the meatball ingredients together in a large bowl.
4
Simmer the porcini braising liquid down until it's about a cup in volume.
5
Bring a pot of salted water to a boil.
6
Sear the meatballs into a hot, oiled skillet until well browned.
7
Reduce the heat under the pan to low and add the reduced braising liquid & cream to the meatballs. Bring the liquid to a simmer, then remove it from the heat. Periodically baste the meatballs while waiting for the pasta, to help keep them from drying out.
8
Boil the pasta until on the tougher side of al dente.
9
Use tongs to remove the pasta from the water, then add it to the skillet with the meatballs.
10
Add the parsley & gently toss the skillet's contents to coat, taking care not to break the meatballs. Squeeze in the remaining lemon juice & toss again.
11
Serve, sprinkled with additional parsley if desired.