Poached Rabbit Meatballs in Radicchio
Makes Approx. 10 Appetizer Servings
This elegant appetizer features light but intensely flavorful rabbit meatballs wrapped in purple radicchio (a bitter leafy vegetable) & drizzled with a porcini braising liquid sauce.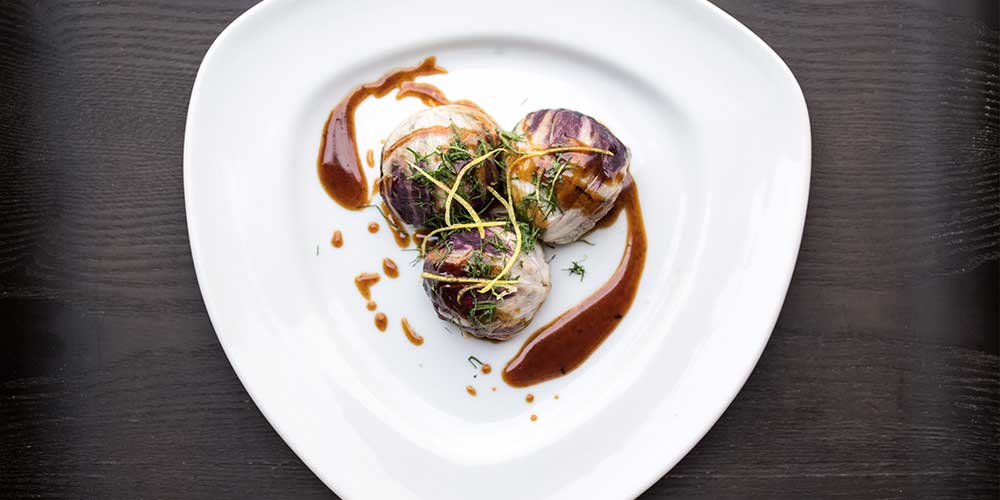 INGREDIENTS
Meatballs:
4 Rabbit Kidneys (from Whole Rabbits), minced
1 1/2oz Dried Porcinis, rehydrated & finely minced

1 cup Panko Bread Crumbs

½ cup minced Onion, caramelized

1 tsp minced Fresh Thyme

3 Egg Yolks

1 tbsp Canola Oil

1 tbsp Unsalted Butter

Salt to Taste
Garnish:

Very thinly sliced Lemon Zest & Flat Leaf Parsley
DIRECTIONS
1
Pull the meat off of the rabbit legs, then shred & finely mince it.
2
Mix all the meatball ingredients together in a large bowl.
3
Briefly blanch several radicchio leaves in boiling water, just until they're tender.  Remove them from the water, path them dry and reduce the heat until the water is just simmering.
4
Form some of the mixture into one small meatball.  Wrap it in radicchio, and then in plastic wrap.
5
Poach the wrapped meatball in the hot water for about five minutes.  Unwrap the plastic wrap and taste the meatball for seasoning.  Add additional salt to the mixture if necessary.
6
Form the remaining mixture into meatballs, wrap them in radicchio & plastic, then poach them until cooked through.
7
Simmer the reserved braising liquid down to a thick sauce consistency, then swirl in the butter until melted & incorporated.
8
Unwrap the plastic from the meatballs and gently put them (still wrapped in the radicchio) in the sauce to keep them warm.
9
Move the meatballs to plates.  Serve them drizzled with a little bit of the sauce.
Recipe Developed by Jake Vorono