Roasted Rabbit Saddles in Escabeche Sauce
Makes 2-4 Servings
WINE PAIRING
Gruner Veltliner or Oregon Pinot Noir
In this dish delicate roasted rabbit is served on the bone, marinated in a tangy-sweet-citrusy-savory escabeche sauce. You could serve this dish the day you make it, but the flavor will be better with the overnight rest as written below.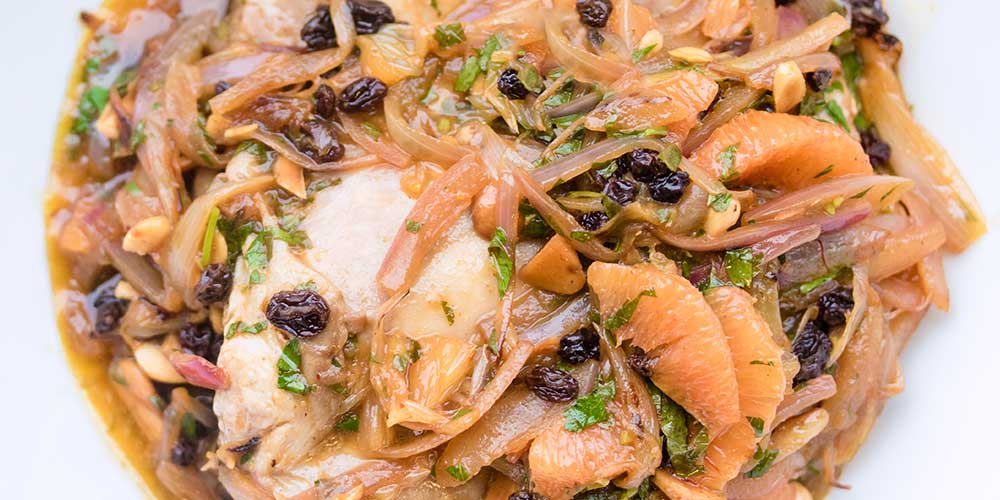 INGREDIENTS
Escabeche Sauce:

1 Red Onion, cut into strips

1/3 cup Valencian Paella Base

1/3 cup Red Wine Vinegar

1 tsp Organic Native Forest Honey (could substitute other honey)

2 tbsp Dried Currants

1/3 cup Extra Virgin Olive Oil

2 tbsp Chopped Marcona Almonds (salted & fried marconas are ok)

¼ tsp Sweet Smoked Paprika (Pimenton)

1 pinch Saffron Threads

Segments & Juice from 2 Oranges

2 tbsp Chopped Flat Leaf Parsley

1 tbsp Chile Oil Recipe
DIRECTIONS
The Day Before Your Meal:
1
Preheat your oven to 350 degrees.
2
Oil a skillet with the plain olive oil. Get it very hot over high heat, then add the rabbit saddles, outside down. When that side has browned, flip them over and sear the other side.
3
Move the saddles to a roasting pan in the oven and roast until the meat is cooked, but still a little pink (140ish).
4
Saute the onion strips in the rabbit fat & oil mixture left in the skillet until it starts to brown.
5
Pour in the paella base, vinegar, honey & extra virgin olive oil. Stir in the paprika, currants, saffron and almonds.
6
Remove the pan from the heat & stir in the parsley, chile oil, orange segments & orange juice.
7
When the saddles have cooked, remove them from the oven.
8
Top the saddles with the escabeche sauce & store them in the fridge overnight for the flavors to penetrate the meat.
1
Reheat & serve. Diners can pull the meat away from the bone with their forks.