Quick Wild Boar Bolognese
Makes 4 Servings
WINE PAIRING
Frappato from Sicily or Cannonau from Sardinia
As tasty as tomato sauce on pasta is, sometimes you need something a little more substantial. Why not add ground wild boar? It's lean and incredibly flavorful.
DIRECTIONS
1
Heat olive oil in a pan over medium heat.
2
Add the wild boar meat, and cook it, breaking up any large clumps.

3
Deglaze with the red wine. Cook until the alcohol has cooked off, and the wine has partially reduced.
4
Stir in the red sauce.

5
Taste and add salt & pepper as needed.
6
Boil the pasta.

7
Serve the Bolognese over pasta, topped with breadcrumbs and Parmigiano Reggiano.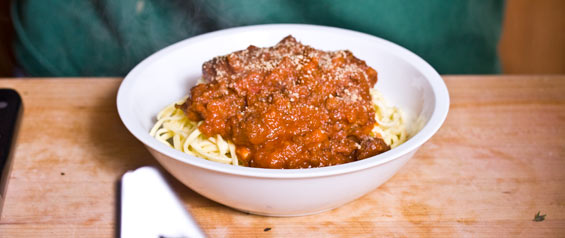 Browse More:
Pasta Recipes
Ground Meat Recipes
Wild Boar Recipes