Quick Lingcod & Mussel Bouillabaisse with Piquillo Rouille
Makes 4 Servings
WINE PAIRING
Rosé (preferably Spanish)
Bouillabaisse is a French mixed fish stew flavored with saffron – in this case made with ling cod & given anise-y flavor with fennel & Pernod absinthe.
Bouillabaisse is traditionally served with toasted bread slathered with a spiced mayonnaise called a Rouille.  This recipe flavors & colors its rouille with sweet, fruity piquillo peppers in addition to the traditional saffron.
We have a salmon & clam bouillabaisse recipe on the site, and it's very delicious, but this one uses pre-made tomato sauce to get you from zero to dinner much faster.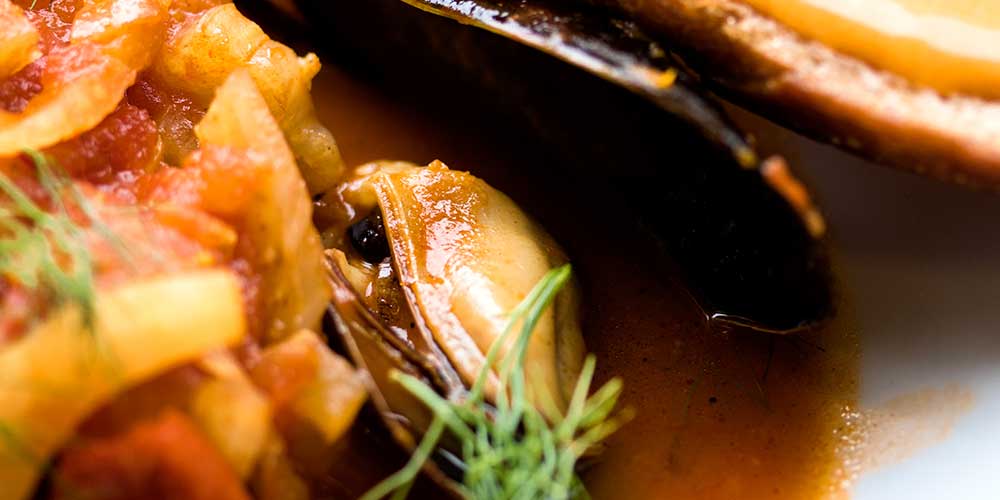 INGREDIENTS
Piquillo Rouille:

2 Egg Yolks

1 pinch of salt

1 large pinch Saffron Threads

2 tbsp of Lemon Juice

1 tsp Sherry Vinegar (we used Gran Reserva Sherry Vinegar)

2 Piquillo Peppers, drained

1 pinch Cayenne

½ cup Olive Oil
Bouillabaisse:

1lb Ling Cod, cut off the bones & quartered

High Heat Oil

¼ cup Olive Oil

½ cup small diced Onion

1 Fennel Bulb, thinly sliced

Large Pinch Saffron Threads

16oz Clam Juice

½ cup White Wine

2 tbsp Pernod

Zest of 1 Orange, very finely grated (ideally microplaned)

10 Spicy Peppadews, drained & quartered

1 ½ cups Jersey Italian Gravy
1/2lb Live Mussels
Thinly Sliced Toasted Baguette

Fennel Fronds

Fine Extra Virgin Olive Oil (we used 1st Day Arbequina)
DIRECTIONS
1
Check your mussels for signs of life. Discard any that are open, broken, or noticeably heavier than the others.  Pull off their beards (the translucent fibers on the outside of the shell).  If any of them are dirty, scrub them with a wire brush.
2
Make the Rouille: Use a blender to blend together all the rouille ingredients, except the olive oil, to a smooth puree. Whisk or blend in the olive oil, as a very slow drizzle, until a mayonnaise-like consistency is reached.
3
Get a frying pan oiled with the high heat oil hot over medium-high heat. Season the ling cod portions with salt & gently lay them into the pan.  Sear them until their bottom sides develop a nice crust, then immediately remove them from the pan.
4
Pour in the olive oil, then add the onion and fennel bulb. Saute, stirring occasionally, until the fennel and onion have lightly browned.
5
Put the saffron threads in 1 tablespoon of the clam juice to bloom.
6
Pour in the white wine and simmer it down until the pan looks dry.
7
Add all of the clam juice, saffron, orange zest, Pernod, peppadews & jersey gravy. Stir & bring the mixture to a simmer.
8
Optional: Lay in the bones (with attached meat) you cut the ling cod meat off of. Simmer them in the sauce at this point to infuse extra flavor, but remove them before moving on to later steps (you can pick the meat off of them as a snack).
9
Once the fennel has softened, add the mussels to the pan. Continue to simmer until they open.
10
Reduce the heat to low, and add the seared cod pieces (seared-side up) along with any juices from their resting dish. Continue to simmer until the cod is cooked through.
11
Spread some of the rouille on the baguette slices. Serve the bouillabaisse, drizzled with extra virgin olive oil & garnished with fennel fronds, with the rouille-coated toasts.