Preserved Lemon Vinaigrette
While the Marx Foods blog already has a post describing how to make a basic vinaigrette, the technique is slightly different if using preserved lemons. Preserved citrus fruit has been brined (pickled) for at least a month, intensifying its flavor as well as imparting complexity. Using meyer lemons instead of conventional lemons will give your vinaigrette a sweeter citrus flavor. The amount of oil and vinegar will vary with the size of your lemon and shallot as well as your flavor preferences. Just try to follow the proportions for the two we've listed below.
Ingredients:
1 whole preserved meyer lemon or other preserved citrus fruit
1 large shallot
2 tsp Dijon mustard
~1/2 cup champagne vinegar
~1 1/2 cups oil (camelina oil or extra virgin olive oil)
Portuguese sea salt to taste
Directions:

1. Remove the stem from the lemon, slice it in half and remove any seeds. Peel the shallot and cut it in half.
2. Put the lemon and shallot halves in a food processor along with the Dijon, 1 pinch of the salt, and the vinegar.

3. Run the food processor, slowly drizzling in your oil until an emulsion is formed (see photo for visual reference). Taste for acidity. Depending on the size (and type) of your lemon, you may need more oil or vinegar in order to balance the flavor.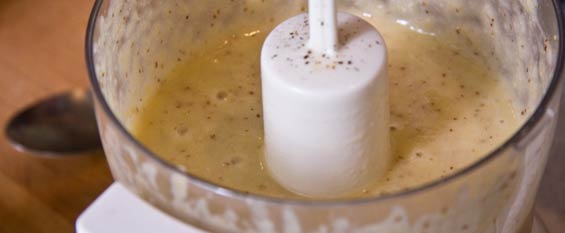 ___________
Browse More:
Citrus Fruit Recipes
Vinegar Recipes
Oil Recipes
Culinary Techniques
Preserved Citrus Recipes