Makes 4-5 Servings
WINE PAIRING
Sparkling White
Tender gulf prawns poached in a spiced white wine mixture served with a unique lemon-buzz button dipping salt that'll make your mouth tingle.  This dish isn't just an appetizer, it's an experience!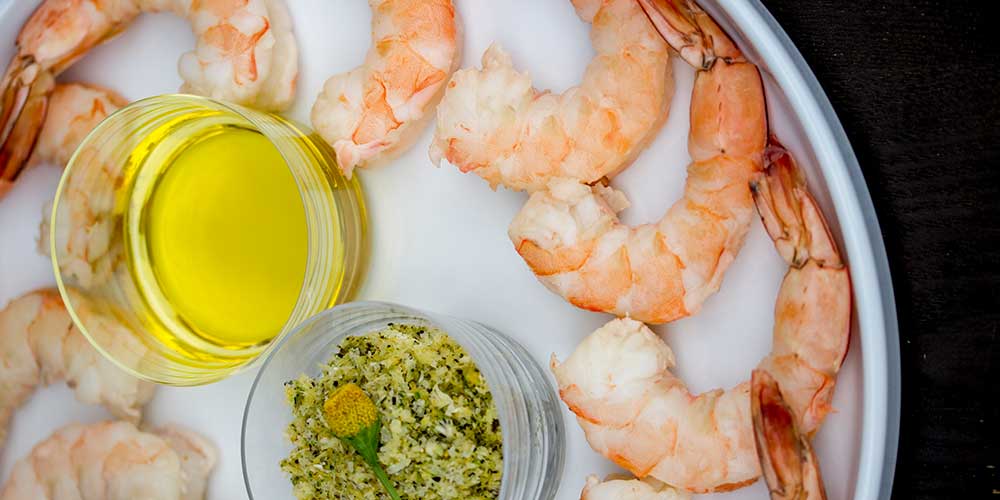 INGREDIENTS
1lb Gulf Prawns, unpeeled

Melted Butter
Poaching Liquid:

2 cups Dry White Wine

1 Celery Stalk, sliced

3 cups Water

2 Bay Leaves

1 tsp Black Peppercorns

1 Lemon

½ Onion

1 tsp Szechuan Peppercorns

1 tbsp Salt

1 tsp Coriander Seed
DIRECTIONS
Prepare the poaching liquid:
1a
Squeeze the juice from the lemon.  Combine both the lemon and the juice with all the other poaching liquid ingredients in a pot.
1b
Bring the liquid to a boil, then reduce the heat to a simmer.  Simmer for 20 minutes.
2
Use kitchen shears to cut up the back of the prawns' shells to expose the vein.  Remove it with the tip of the shears or a knife (
video tutorial
).
3
Bring the poaching liquid back to a boil.  Submerge the prawns in it, then remove the pot from the heat.
4
Let the prawns sit in the poaching liquid until their backs start to turn opaque (about 5 minutes).
5
Remove the prawns from the poaching liquid and put them in the fridge until they're well chilled.
6
While the prawns are chilling, chop together the dipping salt ingredients.
7
Peel the prawns' shells off.  Serve them with melted butter and the dipping salt.