Poulet Rouge Chicken Breasts with Lemon & Basil
Makes 4 Servings
WINE PAIRING
Pinot Gris
This light, refreshing dish features rich chicken flavor tempered with zing from the lemon and the basil. Simple & delightful.
You could also make this recipe with pheasant.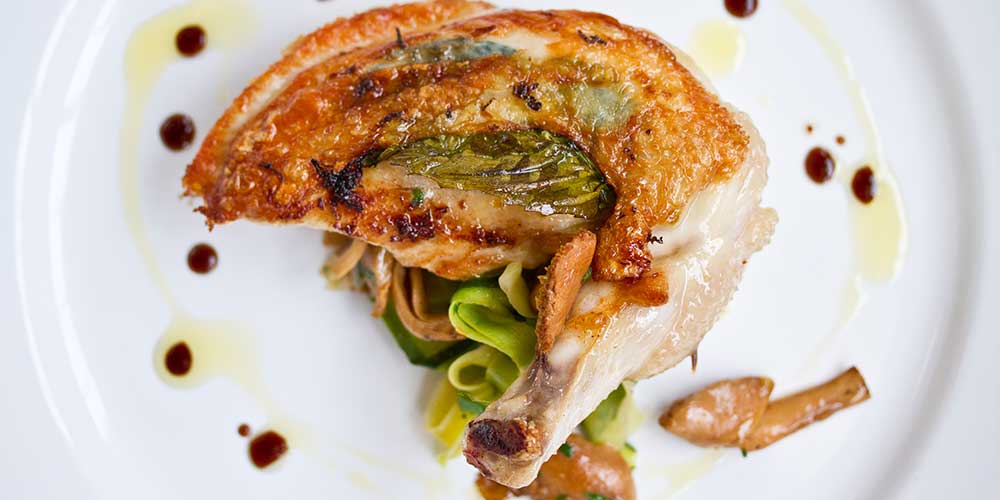 DIRECTIONS
1
Gently lift the skin from the airline breasts and insert a basil leaf under it for each breast. Lift the basil leaves and put some of the lemon zest under each of them.
2
Season each breast both under the skin and above the skin with salt and pepper.
3
Heat a shallow layer of olive oil in a large cast iron skillet or stainless steel frying pan over medium-high heat.
4
Gently lay in the chicken breasts, skin-side down.
Sear
the breasts until the skin side is nice and golden, the meat is half-opaque, and the skin releases from the pan easily. Flip each breast and continue to cook.
If the skin clings to the pan, leave them be and try again a little later. It will release when ready.
5
When the breasts have developed a nice brown crust on the other side and are cooked through, remove them from the pan and let them rest briefly.
6
Serve the rested breasts with your choice of sides, drizzled with the extra virgin olive oil and balsamic vinegar.