Zucchini Ribbons with Wild Mushrooms
A
fun, easy & unusual side dish made by tossing pasta-like ribbons of zucchini with sautéed wild mushrooms.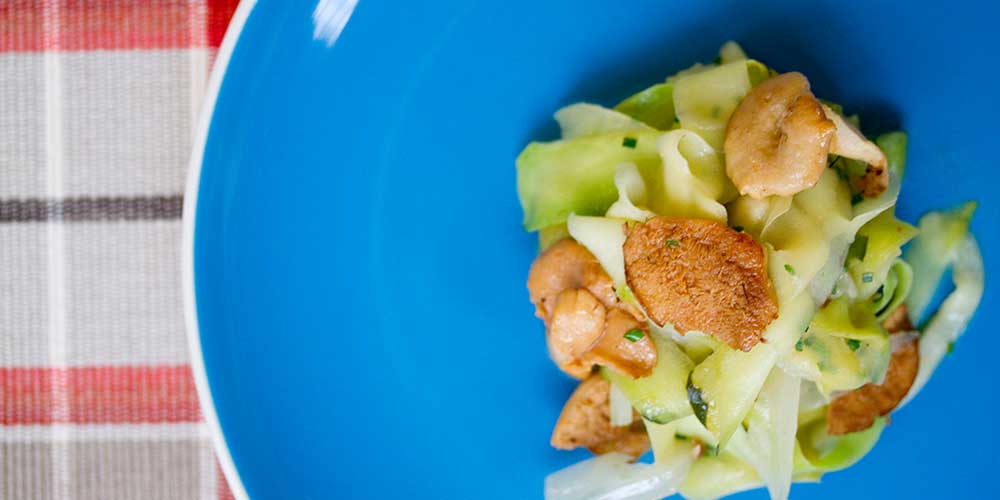 INGREDIENTS
2 large Zucchinis (approx. 1 ½ lbs)

1 tbsp sliced Shallot

2 tbsp Unsalted Butter

1 cup Fresh Mushrooms (we used Fresh Hedgehog Mushrooms)

1 tbsp White Wine

1 tbsp Lemon Juice

1 tbsp chopped Fresh Chives

Salt to taste
DIRECTIONS
1
Peel the zucchinis & discard the skin.
2
Peel the flesh off of the zucchinis in long, noodle-like strips using a vegetable peeler. Peel until you hit the seeds, then stop and discard the cores.
3
Melt the butter in a frying pan. Add the shallot and
sweat
until translucent.
4
Once the shallot is translucent, tear the mushrooms into bite-sized pieces and add them to the pan. Continue to cook.
5
Once the mushrooms are cooked through and caramelized, add the zucchini slices, lemon juice and white wine. Cook until the zucchini softens & starts to turn translucent (about three minutes).
6
Add the chives & salt to taste. Serve.