Dried wild porcini mushrooms take this potatoes au gratin recipe to new heights!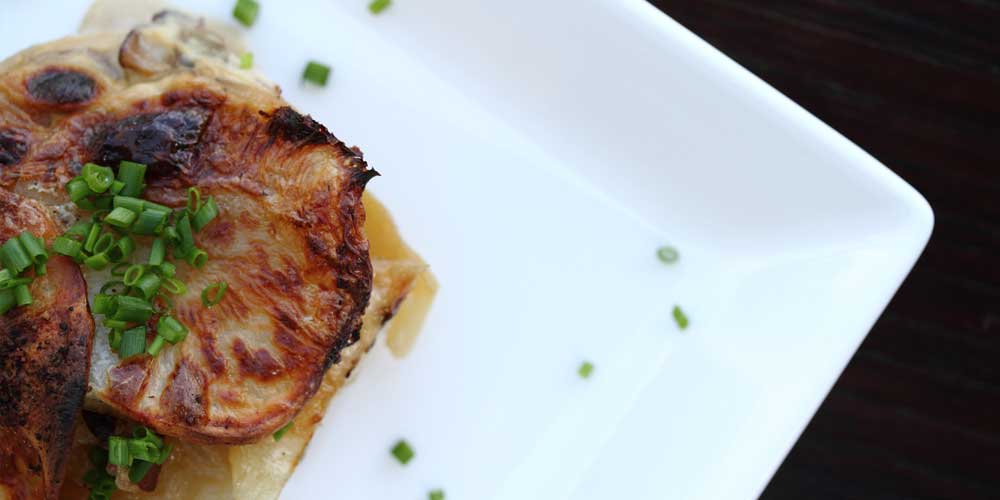 INGREDIENTS
Reserved Porcini Soaking Liquid, strained

5 large Russet Potatoes

2 large Cloves of Garlic, minced

1 tbsp Salted Butter

2 cups Milk

1 cups Heavy Cream

2 tbsp Fresh Chives, minced

1 tsp Salt
DIRECTIONS
1
Boil porcini soaking liquid on the stove until it has reduced to about 1/2 cup. Add the cream, minced garlic and milk.
2
Preheat oven to 350 degrees F. Butter an 8 by 12 baking dish.
3
Peel potatoes and slice 1/8 inch thick.
4
Shingle the potato and porcini slices in the buttered dish in alternating layers. Season every few layers with salt & pepper. When the pan is half full, pour the cream mixture over the top. Continue stacking the rest. Once the pan has been filled, press down on the stacked potatoes and porcinis to compress them. You may be able to fit in a few more layers.
5
Cover the top of the dish with foil and bake for 1 hour.
6
Remove the tin foil and broil the gratin for 5 minutes. Top with the chives & serve.