Porterhouse with Roasted Heirloom Potatoes and Bearnaise Sauce
Makes 8 Servings
WINE PAIRING
Napa Valley Cabernet or Monastrell from Jumilla, Spain
Porterhouses are rich, flavorful steaks and bearnaise is a rich, flavorful sauce. The combination of the two is a luxurious classic steakhouse dish.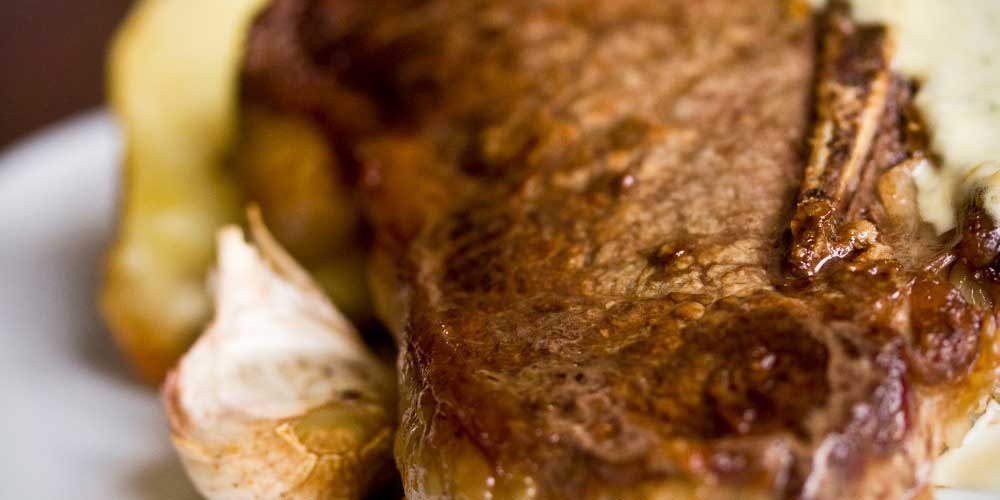 DIRECTIONS
1
Roast the potatoes
. Once they've finished, pull them out and increase the oven's temperature to 400 degrees.
2
Carefully dry all surface moisture from the porterhouse steaks. Season one side liberally with the sea salt.
3
Oil a cast-iron skillet (enough to coat the bottom) with the peanut oil. Heat the skillet over medium heat.
4
Once the skillet is very hot, put the porterhouse steak in the skillet salt-side down. Salt the other side.
5
Add the cloves of garlic and thyme sprigs to the skillet. While the steak cooks, gently tip the pan periodically to redistribute the oil.
6
Once a crust has formed on the bottom of the porterhouse, flip it, and move it to the oven to finish.
7
Allow the steak to
roast
in the oven until your desired level of doneness has almost been reached. The steak will continue to cook slowly (an additional 5-10 degrees) during the rest.
8
Set up a warm resting area with a clean plate and a sheet of tin foil to cover.
9
Once the steak is ready, remove its pan from the oven. Discard the thyme sprigs, reserve the roasted garlic for a later garnish. Rest your steak, covered, for ten minutes.
10
Turn off the oven, and put the potatoes back inside, using the residual heat to reheat them (but be careful not to let them overcook).
11
Slice the potatoes and plate them with the porterhouse steak and a clove of the roasted garlic (squeezed out of its peel). Add the béarnaise sauce and serve immediately (the sauce will break down from the heat of the steak if you sauce too early).