Celery Root, Porcini, Parmigiano & Butternut Squash Gratin
Makes 6-8 Servings
WINE PAIRING
Arneis
Rich, creamy, cheesy & packed with umami – this gratin replaces humble potatoes with a blend of celery root & butternut squash slices.
The secret ingredient – wild porcini mushrooms – really takes this recipe in an interesting direction, adding earthy depth that pairs beautifully with the flavors of the squash, parmesan & herbs.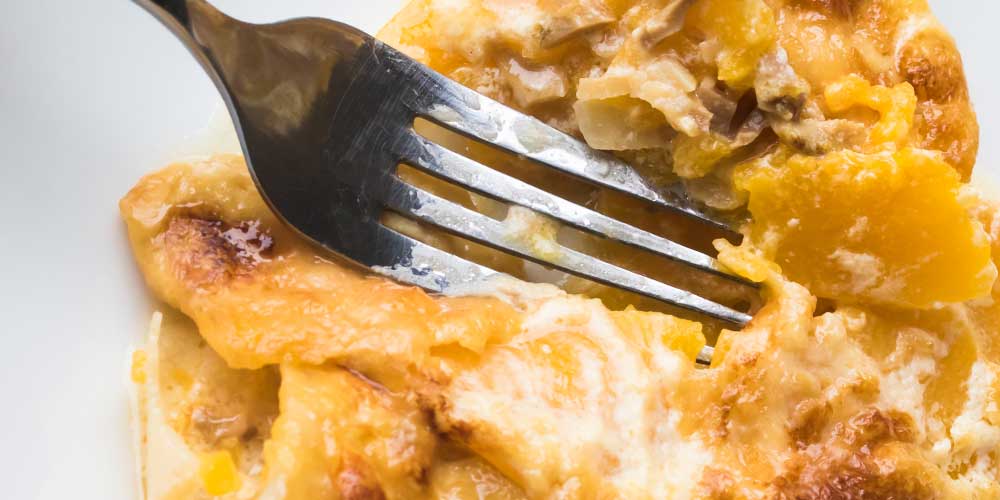 INGREDIENTS
2 Celery Roots

1 Butternut Squash

1/2 cup Strained Porcini Soaking Liquid

2 pts Heavy Cream

2 Bay Leaves

2 sprigs Fresh Sage

3 sprigs Fresh Thyme

1 ½ tsp Salt

10 grinds of Black Pepper

2 1/2oz Parmigiano Reggiano Cheese, grated & rind reserved
Buttered 9 by 13 Baking Dish

Butcher's Twine
DIRECTIONS
1
Preheat your oven to 350 degrees.
2
Peel the celery root & use a mandolin to slice it 1/8th of an inch thin. Store it in water with a little vinegar or lemon juice (to prevent browning) while you work with the squash.
3
Peel the butternut squash, halve it & deseed it. Slice it 1/4 inch thin.
4
Pour the heavy cream into a deep pot over medium heat with the bay leaves, salt, pepper, and porcini soaking liquid.
5
Tie the thyme and sage together into a bundle with butcher's twine & add them to the pot.
6
Drain the water off the celery root & add it to the pot along with the butternut squash slices & parmesan rind.
7
Bring the cream mixture to a boil, then reduce it to a simmer, stirring the slices occasionally so that they cook evenly. Cook for about 15 minutes.
8
While the celery root & squash slices are cooking, finely mince the rehydrated porcini mushrooms. Stir them into the cream mixture once the 15 minutes of simmering are up.
9
Pour the gratin mixture into the baking dish. Remove & discard the herb bundle, bay leaves & parmesan rind.
10
Gently spread the gratin mixture into an even layer, then top it with the grated parmesan.
11
Cover the dish with foil. Move it to the oven & bake for 20 minutes.
12
Remove the foil & bake for an additional 25 minutes.
13
Carefully remove the baking dish from the oven & let the gratin cool until it's safe to eat and has set up a little bit.
14
Scoop out portions & serve.