Make your risotto more robust and complex with wild porcini mushrooms!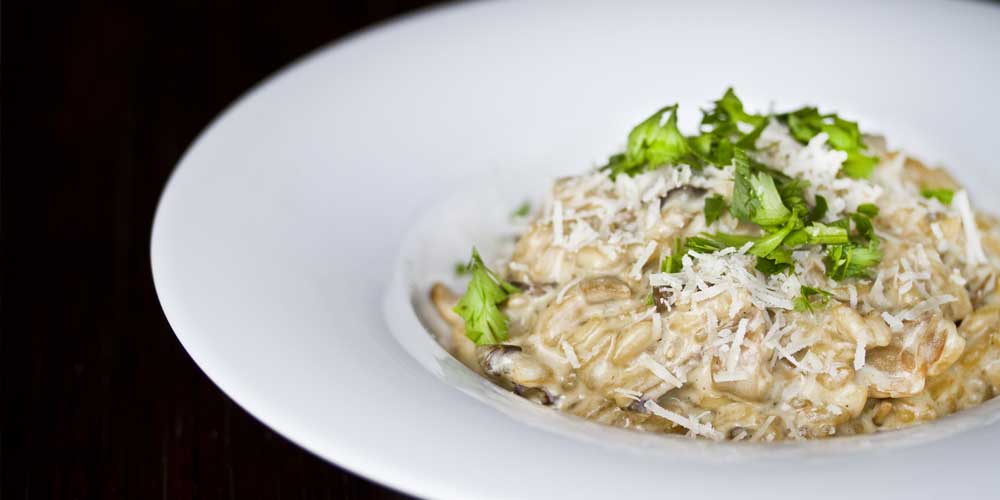 INGREDIENTS
2 oz Dried Porcini Mushrooms, reconstituted & thinly sliced

4 tbsp Olive Oil

1 small Onion, minced

2 cups Carnaroli Rice (could substitute Vialone Nano Rice or Arborio Rice)

½ cup White Wine

Strained Mushroom Rehydrating Liquid + enough Chicken or Veggie stock to make 6 cups total

2 tbsp Unsalted Butter, cut into small pieces

½ cup Heavy Cream, whipped

1 cup Parmesan Cheese, finely grated

½ cup chopped Fresh Parsley

Salt and Pepper, to taste
DIRECTIONS
1
Sweat the onion in butter until translucent.
2
Add the rice and toast while stirring.
3
Deglaze the pan with the white wine. Cook until you can no longer smell alcohol.
4
Add the reconstituted mushrooms.
5
Begin to slowly add the stock in 8oz increments, letting it simmer down almost completely before adding more. Stir frequently.
6
Taste the rice for texture. It is done when al dente.
7
Transfer to a heated bowl, add ¾ of the cheese, 1 tbsp of butter and the whipped cream.
8
Gently fold in the cream, taste, and add salt, pepper to taste.
9
Drizzle on truffle oil if desired, then top with the remaining cheese and chopped parsley. Serve.