Runner up in our "make reishi tea taste good" challenge, Kendra of Kendra Can Cook shares her Peppermint/Honey and Peach Reishi Tea recipes.  Basic reishi tea is notoriously bitter and Kendra shows us a couple ways to make it less so.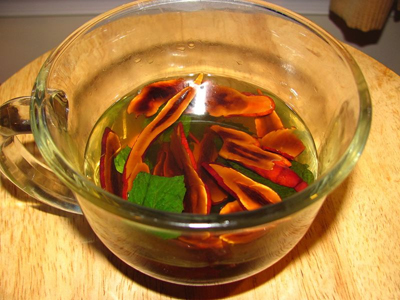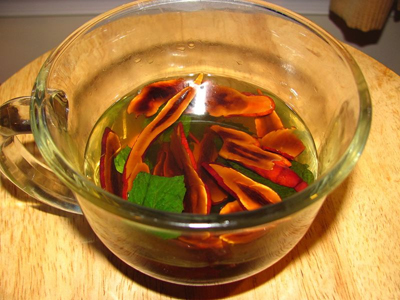 Peppermint & Honey Reishi Mushroom Tea
makes one serving
● 8 ozs water
● 9 reishi mushroom slices
● 8 fresh mint leaves (crushed)
● 2 tbsp honey
● 2 drops of peppermint oil
Bring water to a boil on the stove.  Add dried reishi mushroom slices and allow to steep for 15 – 30 minutes.  After the mushrooms are fully saturated, add fresh mint, peppermint oil and honey and stir.  Reheat if necessary.
Time/Money Savers/FYI's:
● For another tasty variation, omit the mint & peppermint oil and instead slice & boil a fresh peach, mush it and add the peach juice (and a bit of the pulp) to reishi mushroom tea with a few tablespoons of honey.  Delicious!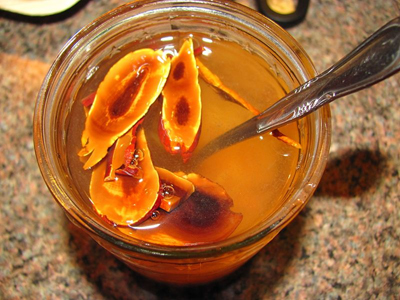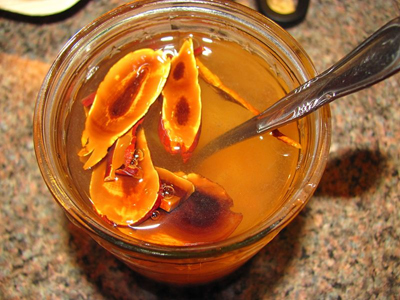 ___________
Browse More:
Reishi Mushroom Recipes
Cocktail & Beverage Recipes
Honey Recipes