Gin, Pepper & Blueberry Shrub Cocktail
Makes 1 Cocktail (plus extra syrup)
Fruity, tangy, and aromatic, this cocktail is topped with sparkling wine to make it a bit lighter & fizzy.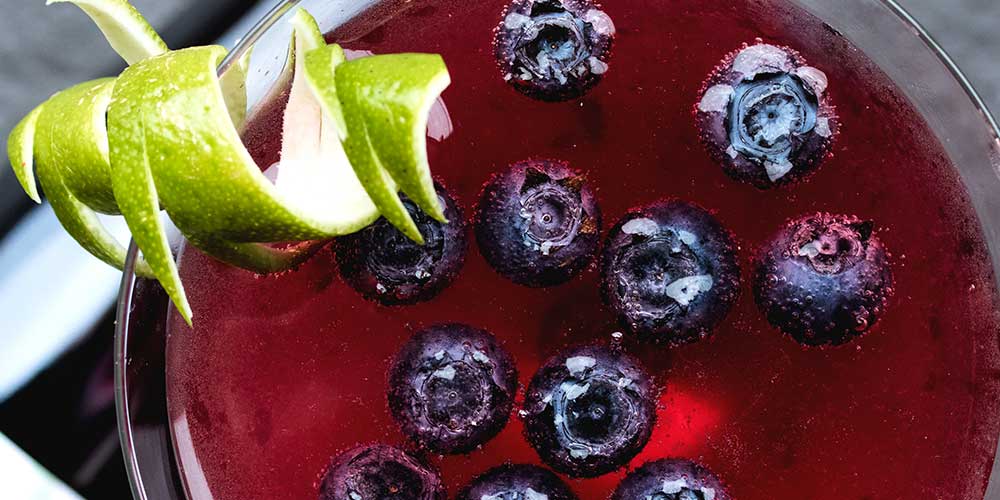 INGREDIENTS
Raw Sugar Base Syrup:

1 cup Raw (Demerara) Sugar

1 cup Water
Black Pepper Syrup:

½ cup Raw Sugar Simple Syrup (save the extra for other recipes)

1 tbsp Black Peppercorns, lightly crushed
Cocktail:

1 1/2oz Gin (we used Voyager)

1/2oz Blueberry Shrub

Light 1/2oz Black Pepper Syrup

Light 1/4oz Lemon Juice

Brut Sparkling White Wine
Garnish:

12 Blueberries, Twist of Lime Zest
DIRECTIONS
1
Make the base syrup: combine the raw sugar & water in a small saucepan. Heat the water to a simmer, stirring, until the sugar dissolves.
2
Take a half cup of the resulting syrup and bring it to a simmer in a separate pot. Add the peppercorns and simmer 5-10 minutes, until you like the intensity of the flavor.
You can reserve the extra raw sugar syrup for other recipes, or multiply the pepper syrup recipe to use it all up.
3
Combine in a mixing tin the gin, blueberry shrub, pepper syrup, lemon juice.
4
Shake with ice to chill & combine.
5
Double-strain into a martini glass.
6
Top with sparkling wine.
7
Gently plop in the blueberries. Garnish with the lime zest & serve.