Parsnip & Vanilla Soup with Beet Oil & Fried Capers
Makes 8 Servings
DRINK PAIRINGS
Champagne or California Sauvignon Blanc
This is a rich, sweet, creamy soup with vanilla bean smoothing all the flavors together. The earthiness of the beet oil and zing of the capers help rein in the cream and sweetness before they become cloying or over-heavy.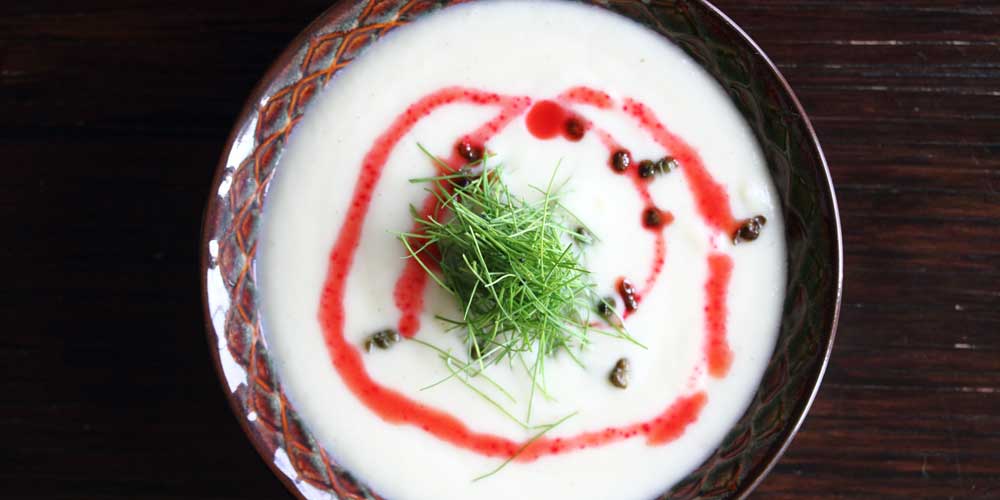 DIRECTIONS
1
Heat oil in a large pot. Add the onion & sweat. Be careful not to let them caramelize. When the onions have turned translucent, add the celery and leeks. Sweat for about a minute, then add the parsnips, stock, and about a cup of water.
2
Simmer until the vegetables are tender.
3
Puree the soup. Return it to a pan on the stove and stir in the cream. Briefly simmer to bring the temperature back up to serving heat. If the soup is thicker than you prefer, you can add a little water to thin it out. Taste for seasoning & add salt.
4
Heat a thick layer of olive oil (enough to submerge the capers) in a pan and briefly fry the capers until they pop open. Drain on a towel.
6
Serve the soup in bowls garnished with a drizzle of the beet oil, some fried capers, and (if desired) micro chives.