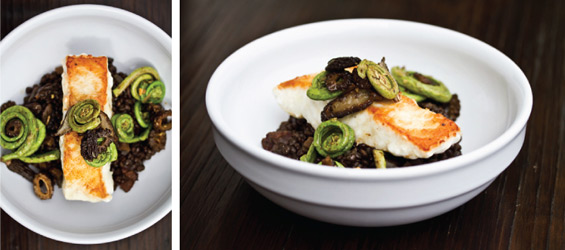 Pan Roasted Sturgeon with Sautéed Fiddleheads, Morels and Bacon Braised Lentils
Eating sturgeon doesn't have to mean eating smoked fish or caviar. It's actually a delicious white-fleshed fish, well suited to pan roasting. We've paired it here with morels, fiddlehead ferns and lentils, but you could easily substitute other fresh mushrooms and asparagus.
Drink Pairings: Frappatto or Ploussard from Jura
Ingredients: (Makes 4 servings)
24oz of White Sturgeon, cut into four portions
3oz Thick Slab Bacon
1 tsp minced Garlic
1 ½ tbsp Butter
1 ½ cup Beluga Lentils
½ cup Carrots, small diced
½ cup Onions, small diced
4 cups of Chicken Stock
5 sprigs Fresh Thyme
1 Pint of Fresh Morel Mushrooms – you could substitute any fresh mushrooms
1 Pint Fiddlehead Ferns, blanched (how to clean & blanch fiddleheads) – you could substitute asparagus
Directions:
1. Cut the bacon into small batonnets (sticks).
2. Put the bacon in a medium saucepan and render out the fat over medium-low heat. The bacon is ready when it has crisped up from most of the fat melting into the pan.
3. Remove the bacon from the pan & reserve.
4. Add the onion, sweat until translucent, then add the carrot.
5. Rinse the lentils.
6. After the carrot has cooked for a minute, add the lentils, chicken stock, bacon and thyme sprigs.

7. Bring to a simmer, cover, and reduce the heat to low. Simmer until tender (about 45 minutes). Extract the thyme sprigs & discard them.
8. Preheat your oven to 375.
9. Cut the morels into bite sized pieces.
10. Remove the skin from the sturgeon. Salt it.
11. Get oil in a cast iron skillet hot. Gently lay in the sturgeon pieces, with the top landing away from you to protect against splashing oil.

12. While the sturgeon is cooking, sauté the morels and garlic in the butter.
13. After four minutes on the stove top, when the bottom of the sturgeon is golden brown, move it to the oven for another four to five minutes until opaque.
14. Once the morels have started to brown, add the blanched fiddleheads.

15. After sautéing for a couple of minutes, taste the fiddleheads. Once they're tender, the dish is finished. Season with salt & pepper if necessary, then serve with the lentils and sturgeon.
___________
Browse More:
Seafood Recipes
Morel Mushroom Recipes
Fiddlehead Fern Recipes
Bean & Lentil Recipes