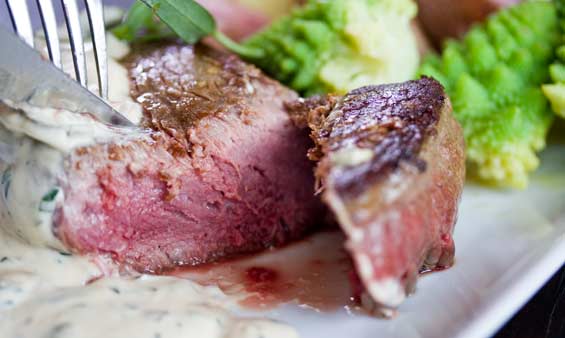 Pan Roasted Filet Mignon with Cornichon Tarragon Cream Sauce
Sauteed Romanesco and Roasted Heirloom Potatoes

(Serves 4)
Wine Pairing: Barolo from Piemonte, Italy or Left Bank Bordeaux
Ingredients
4 grassfed filet mignons (you could also cut your own from a grass-fed beef tenderloin or substitute Kobe beef filet mignons or bison filet mignons)
1 cup of brown veal stock (we recommend homemade veal stock)
½ shallot
1 tbsp of mustard
1 cup of heavy cream
2 tbsp fresh tarragon
2 tbsp cornichons (aka gerkins, tiny pickles)
½ head romanesco
12 oz potatoes, we recommend Mountain Rose Potatoes and/or Desiree Heirloom Potatoes
Salt to taste
Peanut oil
Directions:

1. Roast the potatoes. Once they've been removed from the oven, set its temperature to 400 degrees.
2. Cut the florets from the romanesco head and blanch them in boiling salted water for 1 minute.
3. Remove the romanesco florets from the water and immediately plunge them into an ice bath to stop the cooking process.
4. Carefully dry all surface moisture from the fillets. Season one side liberally with sea salt.
5. Finely dice the shallot & fresh tarragon. Cut some of the cornichon into matchsticks and finely dice the rest.
6. Oil a large stainless steel frying pan (enough to coat the bottom) with the peanut oil. Heat the pan over medium-high heat.
7. Once the pan is very hot, put the steaks in salt-side down. Salt the other side.
8. Angle the pan occasionally to redistribute the oil.
9. Once a crust has formed on the bottom, flip the steaks, and move them to the oven.
10. Allow the steaks to roast in the oven until your desired level of doneness has almost been reached. The steaks will continue to cook slowly (an additional 5-10 degrees) once after they're removed from the oven.
11. When the fillets are nearing your target temperature, remove them from the oven. Rest them on a clean plate, covered loosely with tin foil, for ten minutes.
12. Deglaze the pan where the fillets were roasting with veal stock, add the mustard and shallot.
13. Bring this mixture to a simmer and reduce it until it is viscous.
14. Add the heavy cream and continue to reduce, stirring frequently.
15. Heat olive oil, salt & pepper in a separate frying pan, and add the romanesco. Sauté it for a few minutes, tossing frequently, until tender.
16. When the cream sauce coats the back of the spoon ("napper") remove the sauce from the heat and stir in the cornichon and tarragon. Add in any meat juices that have collected on the filets' resting plate.
17. Slice the potatoes, and plate the filet mignons with them, the romanesco, and the tarragon cornichon sauce.

___________
Browse More:
Steak Recipes
Beef Recipes
Bison Recipes