Pan Fried Oysters with Lemon Truffle Aioli
Makes One Serving, no matter how many oysters you use;)
WINE PAIRING
Chardonnay
These fried oysters are superb – light, crispy & crunchy on the outside, soft & meaty on the inside, without being runny or chewy. Dipping them in earthy, lemony truffle aioli blows the mind.
You'll want to eat them like popcorn until you're sick. Consider yourself warned.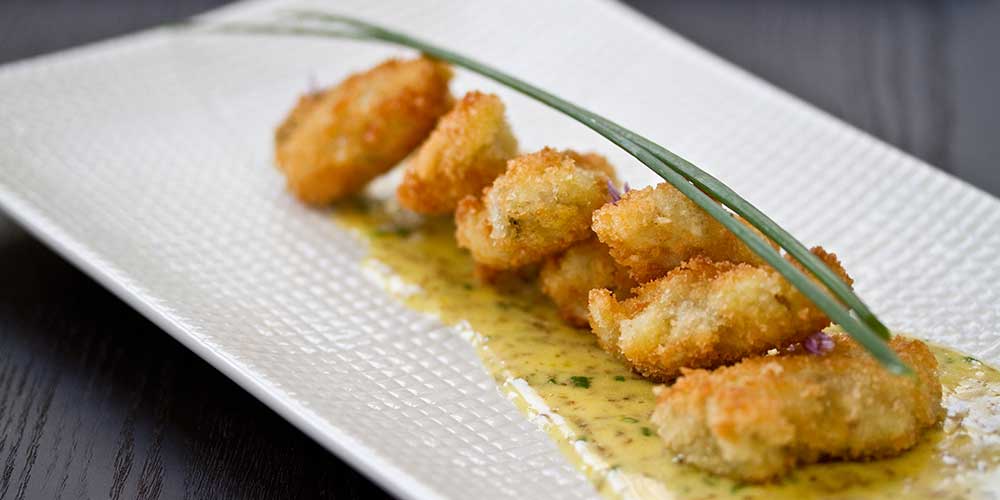 DIRECTIONS
2
Chop the panko breadcrumbs in a food processor to break them into fine granules.
3
Mix the flour with the salt & pepper.
4
Set up a three-stage breading station – flour, egg, panko bread crumbs.
5
Heat 1/3″ of high heat oil (grapeseed, vegetable oil, etc) in a deep frying pan until it shimmers.
6
Toss the oysters in the seasoned flour, then dip them in the egg, then toss them in the breadcrumbs.
7
Test the oil with a few breadcrumbs. When it's hot enough to
fry
(the oil bubbles around the test crumbs), gently lay in the oysters. Take care not to crowd the pan.
8
As each side of the oysters crisps and turns golden brown, turn them to cook the other sides.
9
When the oysters are done, move them to paper towels to drain off the excess oil.
10
Serve with the white truffle lemon aioli either spread on the plate or in a separate dish for dipping. Garnish with chive blossoms & fresh chives if desired.