Aioli is a flavored mayonnaise that traditionally includes garlic.  Here we've substituted chives for a softer, greener flavor that lets the lemon and truffle take center stage.
If you don't have fresh truffles handy, you can instead substitute white truffle oil for a small quantity of the olive oil called for this recipe.
Ingredients:
2 Egg Yolks
Juice of 1/2 Lemon
Zest of 1 Lemon, finely grated
1/4 oz Fresh White Truffles (we used White Alba Truffles)
2 tsp Fresh Chives, finely minced
1 cup Olive Oil
Directions:
1. Whisk together the egg yolks. Add the lemon zest and juice to the yolks & whisk to combine.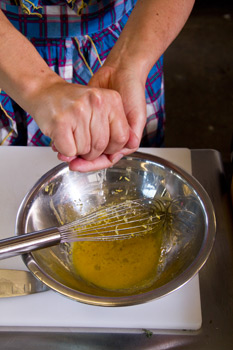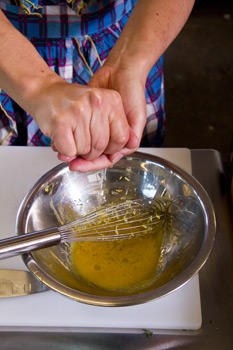 2. Optional: place a towel over a large pot and use it as a resting spot for the bowl.
3. Start drizzling the oil into the yolks in small drops, whisking constantly.  As the mixture starts to come together, you can start adding the oil in larger quantities.


4. Continue until you reach your desired consistency (but don't go over a cup of oil).  We used this aioli as a dip, so we left the emulsion a little softer than you would for a spreadable aioli.
5. Taste, then add salt & additional lemon juice as needed. If the aioli is too thick and you don't want to add additional lemon flavor, you can also thin with a little water.
6. Using a microplane grater, grate the truffle into the aioli. Add the chives & stir to combine.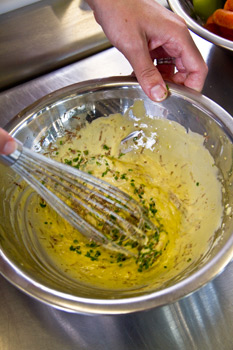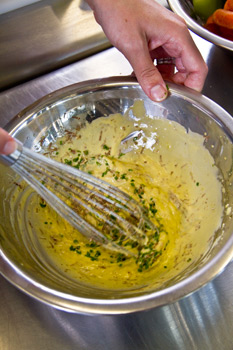 ____________
Browse More:
Truffle Recipes
Meat & Seafood Sauce Recipes