Fresh Oysters with Flowers & Lemon-Champagne Gelee
Makes Enough for 2 Dozen Oysters
DRINK PAIRING
Champagne
Elegant and beautiful, this gelee adds jewel-like shine, white wine & lemon flavor and the delicate appearance of edible flowers to fresh oysters on the half shell.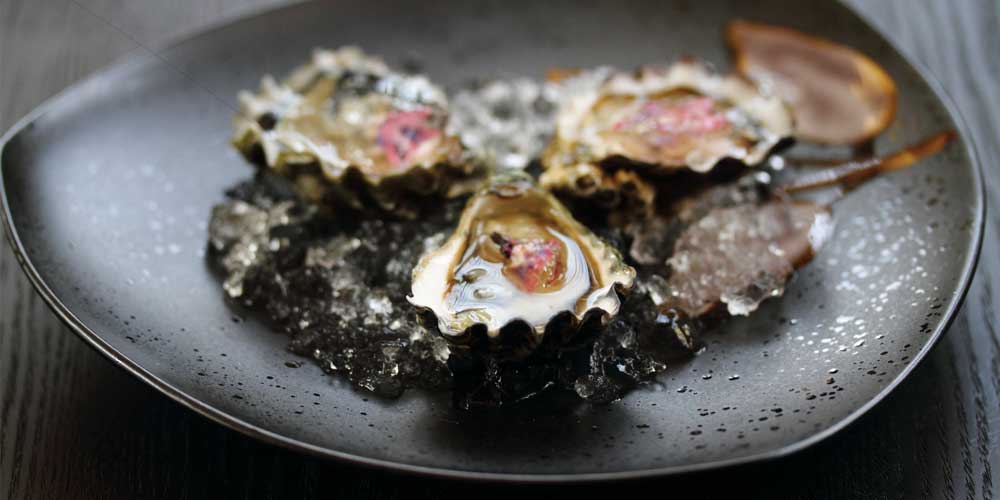 INGREDIENTS
1 1/2 Gelatin Sheets

1 cup Sparkling White Wine (we used Cremant), at room temperature

Zest of 1/2 Lemon

1 tsp Fresh Lemon Juice
DIRECTIONS
1
If using borage flowers, pinch off the fuzzy stems. Rinse the flowers.
2
Put the gelatin sheets in a 1/4 cup of the wine in a small saucepan over medium-low heat. Swirl the pan constantly, and heat just until the gelatin dissolves into the wine. Remove from the heat.
3
Add the other 3/4ths of a cup of wine to the pot along with the lemon juice and a pinch of salt.
4
Pour the gelatin mixture into a small dish & move it to the refrigerator for about five minutes.
5
After five minutes, the gelatin will have begun to thicken. Add the flowers and lemon zest to the gelatin and gently push the flowers below the surface with a skewer (may not be possible with the zest).
6
Check the gelatin again a few minutes later and again submerge the flowers.
8
Scoop some of the flowers with a layer of gelatin around them and use to garnish the oysters served on the half-shell.