Olive Oil Poached Salmon with Israeli Couscous Broth
Makes 6-7 Servings
WINE PAIRING
White Burgundy or Oregon Pinot Noir
Oil poaching is a great technique for cooking fish fillets as it keeps the fish from drying out while imparting additional infused flavor from garlic and herbs. Olive oil poached salmon can be very rich, so the vinegar braised endive adds perfect brightness.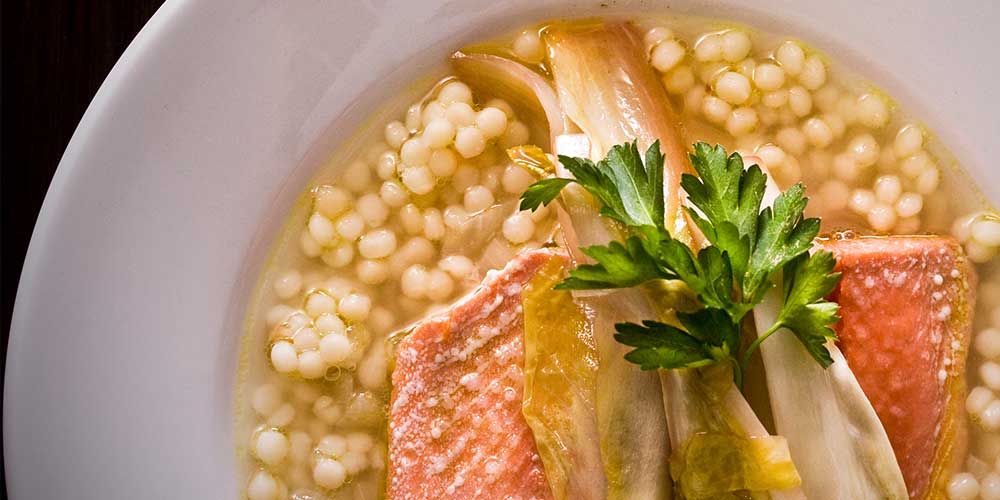 DIRECTIONS
1
Sweat the vegetables in the oil.
2
Add the couscous, and toss to coat it with the oil. Saute the cous cous for a couple minutes to toast
3
Deglaze with the chicken stock, and bring it to a simmer.
4
Simmer the couscous until tender (about 15 minutes).
5
Keep warm for serving soon, or if you'll be serving it later, immediately toss with a little olive oil and spread out on a sheet pan to cool.
6
Cut the bottom off each of the endives and pull apart the leaves.
7
Pour the
poach
ing oil into a pot, add the thyme and garlic cloves. Heat the oil to 125 degrees. Add the salmon and let cook for 12-14 minutes until your desired level of doneness has been reached.
8
Combine the vinegar and the butter in a separate pot, bring to a simmer, add the endive leaves and let them braise until tender. Add salt to taste.
9
Combine the couscous and the fish fumet in a frying pan. Gently reheat, stirring until the couscous pearls separate and are heated through. Season with salt.
10
Pour the broth & couscous into individual serving bowls. Put the poached salmon on top, and then the braised endive on top of that. Garnish with fresh parsley if desired.