Nettle, Sausage & White Bean Soup
This clear, comforting soup is filled with goodies for your spoon to find. Chunks of parmigiano rind (yes, it's edible!), fregola sarda (a toasted Italian couscous), Italian sausage, and diced nettles are all in your bowl waiting for you.
If your grocery store doesn't offer extra parmigiano rind for soups at their cheese counter, ask them if they'll sell some to you anyway. If they won't, just make a point to buy pieces of cheese with as much rind as possible. After you've finished each piece of cheese, tightly wrap the rind and freeze it until you have enough for your soup.
If fresh nettles aren't in season, you can also make this soup using blanched spinach. If you'd like your finished soup to be cheesier, you can always grate some parmesan over the top.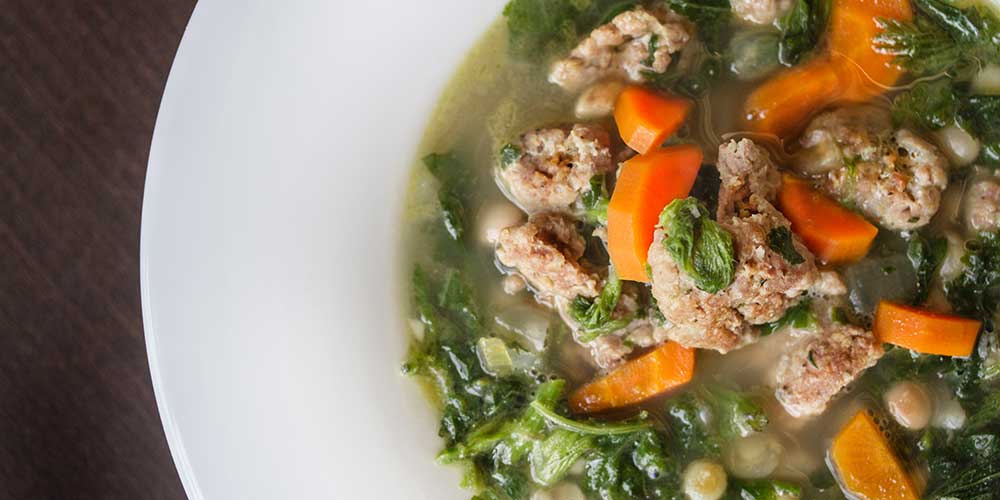 DIRECTIONS
1
Slit the casings of the Italian sausage and crumble the meat into a pan. Brown the meat. Remove & reserve the meat & pour off the excess fat.


2
Add the carrot, onion, garlic & celery. Saute them until they begin to get tender.
3
Pour in your stock, and add the reggiano rind, thyme, and sausage. Bring to a simmer.
4
Optional: Scoop out the reggiano rind and cut it into small cubes, then return those cubes to the pot.
5
Add the fregola sarda and white beans to the pot once the soup has come to a simmer.
Simmer
until the fregola is tender (at least fifteen minutes for large fregola, possibly less for smaller varieties. To know whether the fregola is cooked, bite into it and think pasta. You'll know when its tenderness is to your liking).




6
Once the fregola is cooked, the soup is pretty much done. If you left the reggiano rind whole, fish it out and discard it. Taste the soup and add salt, pepper and lemon juice as necessary. Depending on how much reggiano rind you used, you may not have to add any salt at all.
7
Ladle the soup into bowls and sprinkle a little fresh parsley on top. Serve.