Lamb Stew with Ras el Hanout Cashew Cream, Slow Roasted Tomatoes & Fried Chickpeas
Makes 4-6 Servings
WINE PAIRING
Right Bank Bourdeaux
This stew was a staff favorite at a recent shoot for its depth of flavor and the concentrated sweetness of the very slow roasted tomatoes. Give it a try!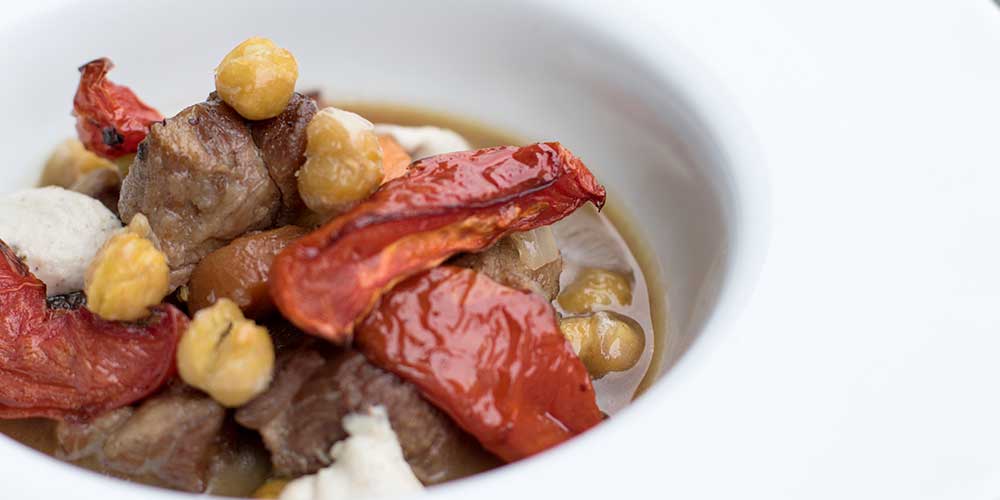 INGREDIENTS
2 tbsp Vegetable Oil

1 Onion, small diced

2 Celery Stalks, small diced

2 small Carrots, small diced

1 quart Beef or Lamb Stock

2 tbsp Ras el Hanout

1 cup White Wine
Roasted Roma Tomatoes:

2lbs Roma Tomatoes

3 tbsp Olive Oil

1 tsp Salt

1 tsp Balsamic Vinegar

1 tsp Sugar

5-6 sprigs of Fresh Thyme
Fried Chickpeas:

1 can Salted Chickpeas, drained

2 cups Canola or Safflower Oil

Small pinch Ras el Hanout

Salt
Ras el Hanout Cashew Cream:
½ cup Cashew Cream (or Yogurt & 1 tsp Lemon Juice)

1 tsp Ras el Hanout

Salt to Taste
DIRECTIONS
1
Preheat your oven to 275°F.
2
Cut each roma tomato into six wedges. Lay them out on a baking sheet and drizzle them with the oil and balsamic, sprinkle them with the salt and sugar. Toss them to coat. Then sprinkle them with the thyme sprigs.
3
Roast the tomatoes in the oven for an hour and forty-five minutes.
4
Trim any large fat deposits & visible silverskin (
how to remove silverskin
) off the shoulder. Cut the shoulder into ¾" cubes.
5
Salt the cubes and sear them in the vegetable oil in two large frying pans to develop a browned crust.
6
When they're almost completely seared on all sides, move the cubes over so they're all in one frying pan. Cook the onion, carrot, and the celery in the remaining fat in the other frying pan until well caramelized.
7
Toss the meat with the ras el hanout to coat, on the heat, for about 30 seconds. Deglaze the pan with the white wine.
8
Transfer the meat and wine to a stock pot and top it with the stock. Add the vegetables, then heat to bring the liquid to a boil. Reduce the heat to a simmer. Simmer until the meat is tender, about 1 ½ to 2 hours.
9
Remove the meat and vegetables from the broth. Simmer the broth, uncovered, to reduce it down to a sauce consistency (whatever thickness you prefer).
10
Fry the Chickpeas: Heat the two cups of oil in a small saucepan to 350°F. Pat the chickpeas dry. When the oil comes to temperature, pour in the chickpeas and fry them until crispy. Remove the chickpeas from the oil. Drain them on a paper towel, sprinkle them with salt and a tiny pinch of Ras el Hanout. Toss to coat.
11
Mix together the cashew cream, remaining ras el hanout, and salt to taste.
12
Plate the stew meat & vegetables with the reduced broth, roasted tomatoes and fried chickpeas. Finish with some of the ras el hanout spiced cream.