DRINK PAIRING
Sake
This dish is intensely satisfying. Earthy, smoky caramelized brown beech mushrooms are combined with floral, piney matsutake mushrooms in a bed of fluffy sushi rice.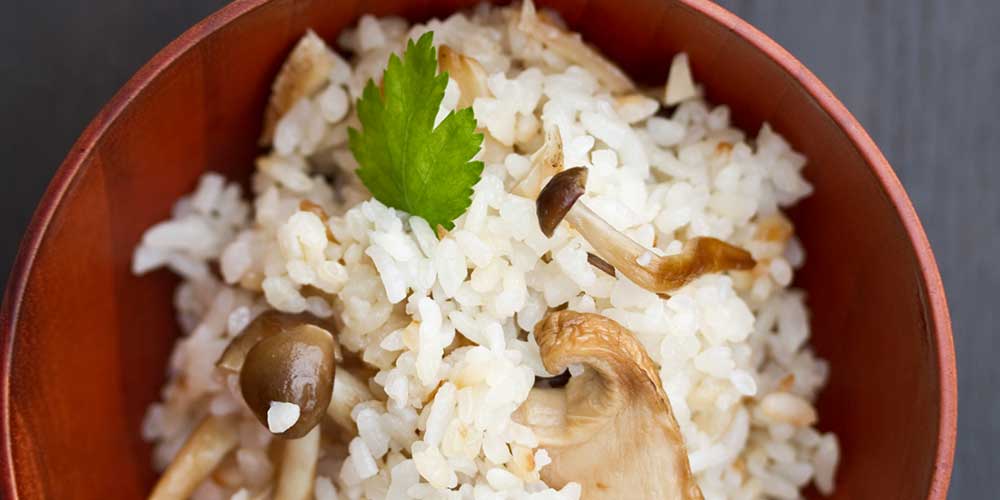 INGREDIENTS
Optional Garnish:

Fresh Mitsuba Leaves or Mitsuba Microgreens
DIRECTIONS
2
Rinse the sushi rice in cold water, agitating it vigorously with your fingers, until the water runs clear. Drain off the water.
3
Cut the base off of the bundle of beech mushrooms (you can discard it or use it in vegetable stock).
4
Remove the matsutake mushrooms from the soaking water once they're tender. Slice off any pretty caps. Dice the rest & add the diced matusakes and caps to the sushi rice.
5
Pour the dashi, sake, mirin, white soy sauce and sea salt over the sushi rice & matsutakes. Let the mixture sit for about 10 minutes.
6
In a deep pot, dutch oven, or enameled cast iron pot, heat the high heat oil over medium-high heat. Add the beech mushrooms and caramelize them in the oil, stirring occasionally, until nicely browned.
7
Pour the sushi rice mixture over the beech mushrooms.
8
Bring the mixture to a boil, reduce the heat to low, cover, and let the rice cook for 20 minutes.
9
Remove the pot from the heat, without removing the lid, and let it sit for ten minutes.
10
Serve the rice, garnished (if desired) with the mitsuba or micro mitsuba.