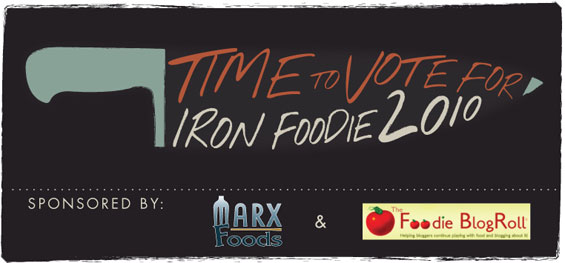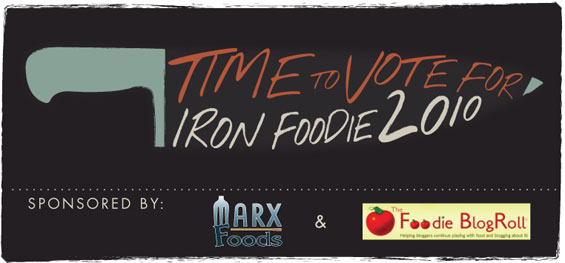 The Foodie Blogroll and Marx Foods teamed up and sent a sample of Dulse Seaweed, Fennel Pollen, Bourbon Vanilla Beans, Maple Sugar, Dried Porcini Mushrooms, Tellicherry Peppercorns, Smoked Salt and Aji Panca Chilies to each of the 25 Iron Foodie Challengers.  Each blogger's task was to create an original recipe incorporating at least 3 of the 8 ingredients.  As you'll see below, the Iron Foodie Challengers delivered!
La Bouna Cucina's timpano recipe was voted the best by readers of the Marx Foods blog, with Cookistry's ice cream recipe being voted the best by the other bloggers participating.
Browse their incredibly inventive dishes below:
We Like to Cook!: Roman Oxtail Stew followed by Spicy Fennel Creme Brulee
The Well-Lived Life: Chinese Pork Confit Fresh Wraps with Vanilla-Maple Barbecue Sauce and Fennel-Dulse Slaw
The Smart Kitchen: Chile Cranilli Bacon Peanut Butter Sandwich & "Chee" Crab Sandwich
The Growing Foodie: Fennel Pollen Waffles with Vanilla-Chile Syrup & Maple Whipped Cream
The Colors of Indian Cooking: Chenna Poda Indian Style Cheesecake
Seriously Sassy: Spicy Gingerbread Biscotti with Maple Drizzle
Notes from the Alpha Test Kitchen: Toasted Ravioli
La Buona Cucina: Timpano di Maccheroni
Everyday Southwest: Aji Panca rubbed Pork Tenderloin with Porcini Tamale & Sweet Potato Haystack
Kate in the Kitchen: Warming Winter Soup
Kahakai Kitchen: Two Pepper Seared Ahi with Avocado-Dulse Yogurt Sauce, Porcini-Dulse Brown Rice & Smoky Lotus Chips
HyeThyme Cafe: Stuffed Pork Loin with Roasted Veggies & Cornbread
Foodalogue: Sweet, Spicy & Smoky Asian Shrimp
Dog Hill Kitchen: Cherry Pie Lattice Cookies
Cookistry: Ice Cream: Buttery, Salty, Sweet 'n Nutty
Coco Cooks: Duck Rillettes on Goat Cheese Croquettes with Black Pepper Balsamic Cranberry Relish
Chez What?: Grilled Swordfish, Poached Baby Octopus & Fresh Cured Sardines
Chef It Yourself: Salt & Pepper Salmon with Fennel & Panca Cream
Can´t Believe We Ate: Porcini, Tellicherry & Smoked Salt Crusted Standing Rib Roast
Burnin´ Love BBQ: Potlach Salmon with Umami Risotto
Bite and Booze: Seared Duck Breast with Smoked Salt & Dried Chile over Homemade Pasta & Porcini Cream Sauce
At Home with Rebecka: Tang Yuan with Smoky Hoisin in Spicy Porcini, Seaweed Broth
Adventures of an Amateur Foodie: "Blasphemous" Guanciale Fennel Fried Rice
A Little Bite of Life:  Pfeffernusse Creme Brulee
A Good Appetite: Sweet & Spicy Spare Ribs
Thanks to all of the bloggers for contributing to this delicious recipe collection.  And a special thanks to the Foodie Blogroll for making this possible!