MARINATED MOREL SALAD RECIPE
This cold salad is a great way to show off the tenderness and flavor of fresh wild morel mushrooms. You can also make it with dried wild morel mushrooms.
Blending the two vinegars leads to a complex sourness that suffuses the dish, playing against the morels' earthiness very nicely.
Because this dish is designed to marinate in the fridge for several hours prior to serving, it is ideal for parties, allowing you to get part of your prep work done far ahead of time. Serve as a side dish with any protein you wish, with olive oil brushed grilled crustini, or with lentils. We strongly recommend pairing this salad with game meats like venison and pheasant.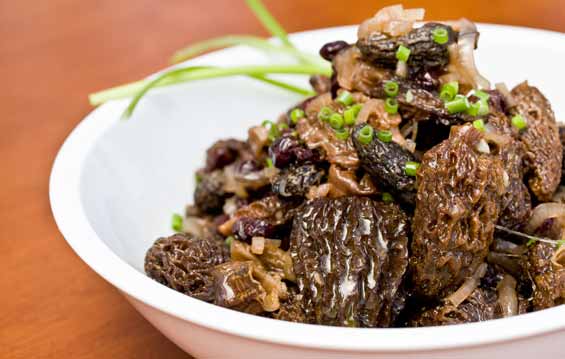 INGREDIENTS
2 large shallots, sliced thin

1 clove garlic, finely diced.

1/4 cup apple cider vinegar

1/4 cup sherry vinegar

1/3 cup dried currents

1 lb fresh morels or 2 oz dried morels

DIRECTIONS
2
In a hot pan over medium heat with a generous amount of olive oil, sweat the shallots with a touch of salt.

3
Once they are translucent, add the garlic. Pour in vinegars and add the currents and morels.

4
Cook the vinegar down to concentrate flavors, but not so much that it becomes a syrup or a glaze.
5
Remove from the heat, pour into a bowl and let cool before moving to the fridge to marinate for 2-3 hours.