Lobster Bites on Brioche with Preserved Lemon Aioli
Butter poached lobster, savory, creamy preserved lemon aioli, buttery brioche. This appetizer/hors d'oeuvre/amuse bouche is heaven by the bite.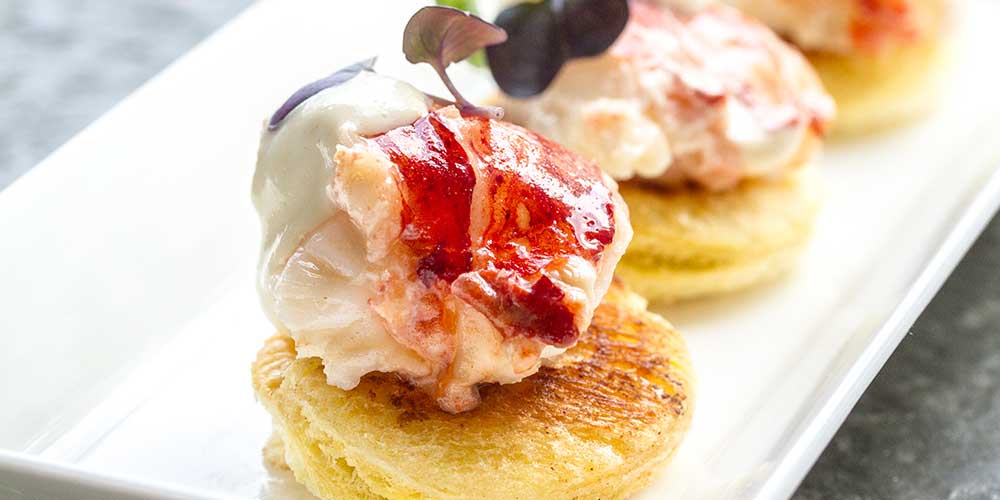 INGREDIENTS
1# Shucked Raw Lobster Meat (tails or claw & knuckle meat)

2 Tbsp Unsalted Butter at room temperature

1 loaf Brioche bread

1 clove Garlic

1.5 tsp Dijon Mustard

1 Tbsp + 1 tsp Sherry Vinegar

Juice from half a Lemon

2 Tbsp Water

1 Egg Yolk

½ tsp Salt

1-1/4 cups Canola Oil

The peel of 1 Preserved Meyer Lemon, chopped

Microgreens for garnish
Poaching Liquid:
2 Tbsp Water

1# chilled unsalted Butter

DIRECTIONS
2
In a food processor, blend the garlic, Dijon, sherry vinegar, lemon juice, water, egg yolk, and salt until well combined. White the machine is running, stream in the canola oil until you've created a smooth and thick aioli. Add the preserved lemon peel and blend until smooth. Taste, and add salt if needed.
3
Slice the broche and then cut it into circles or points. Toast until light brown, either in a toaster without butter, or with butter in a pan on high heat.
4
Top each piece of brioche with a luscious chunk of lobster, a small dollop of preserved lemon aioli, and a microgreen garnish for a pop of color. Serve.