Shellfish with Lamb Merguez Sausage, Fennel & Fregola
Makes 4 Hearty Servings
WINE PAIRING
Pinot Gris
A rich, varied dish of sweet shellfish, savory & slightly spicy merguez sausage, nutty, pleasantly chewy fregola and a rich broth perfumed with herbs, spices and fennel.
If you only have one type of shellfish handy, you could easily make this dish with 4lbs of clams or mussels instead of 2lbs of each.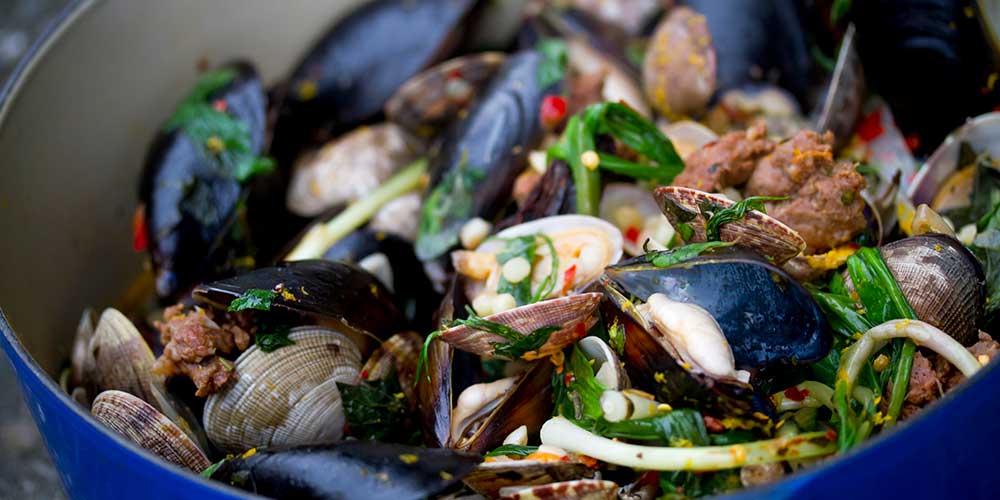 INGREDIENTS
12oz Lamb Merguez Sausage (Merguez in Pork Casings or Traditional Lamb Merguez)
1 cup Fregola Sarda – small, medium or large
2lbs Live Manila Clams or Littleneck Clams (we used Manilas)
2lbs Live Mussels, cleaned/de-bearded
1 tsp Fennel Pollen

½ bunch Fresh Mint, leaves picked & roughly chopped

½ bunch Flat Leaf Parsley, leaves picked & stems discarded

1 tsp Smoked Paprika

1/3 cup small-diced Red Bell Pepper

2 Shallots, thinly sliced

1 cup of White Wine

4 Garlic Cloves, smashed & peeled

2 tbsp chopped Fresh Marjoram

1 tbsp Fresh Orange Zest

¼ cup diced Fennel Bulb

1 tsp Red Pepper Flake

3 tbsp Orange Juice, freshly squeezed

1 tsp Fennel Fronds, chopped

Olive Oil
DIRECTIONS
1
Bring a pot of salted water to a
boil
and cook the fregola sarda in it until tender (up to 15 minutes, depending on the piece size you've selected). Drain off the water and reserve the fregola.
2
Remove the merguez from its casings, and roughly chop any large clumps to break up the meat.
3
In a large dutch oven or pot, heat a thin layer of olive oil. Add the sausage. Cook over low heat to render out the fat.
4
Once the sausage has browned, increase the heat to medium. Add the shallot, fennel bulb and garlic cloves.
5
When the fennel and shallot get translucent & tender (about 3 minutes), add the bell pepper. Cook for one minute, then increase the heat to medium-high.
6
Add the clams and mussels, fennel pollen, red pepper flakes, chipotle chile, smoked paprika, cooked fregola sarda, a light pinch of salt, ramps (if you're using them), some cracked black pepper and white wine. Stir.
7
Put the lid on the pan and cook (lifting the lid & stirring occasionally) until the shellfish start to open.
8
Add the orange zest, mint, parsley, fennel fronds and marjoram. Stir. If a few shellfish are still closed, continue to cook (briefly) until they open. Any that stubbornly continue to refuse to open should be discarded.
9
Add the orange juice. Fish out & discard the chipotle. Serve in the pot (family style) or move to bowls.