Lamb & Goat Cheese Burger
The occidental companion to our Asian-Inspired Lamb Burger, this version pairs a fennel, thyme, Worcestershire & chile-spiced lamb patty with chard, chevre and horseradish.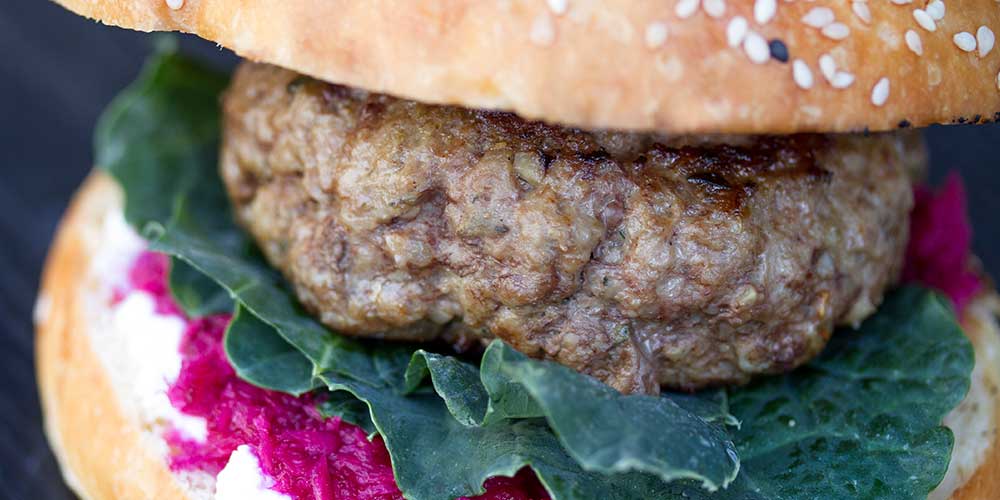 INGREDIENTS
4 tbsp Prepared Horseradish

4 Brioche Buns

8 Chard Leaves

4oz Fresh Goat Cheese (Chevre)
Burger Patties:
Four 8oz Burgers made from Ground Lamb

1 clove Garlic, minced

1 tsp Ground Cumin

1 tsp Fennel Pollen

1 tsp chopped Fresh Thyme

1 tsp Worcestershire Sauce

½ tsp Chile Flakes
DIRECTIONS
1
Preheat your oven to 350 degrees.
2
In a bowl mix together all the patty ingredients. Form the mixture back into four patties.
3
Pan sear
the patties, then move them to the oven to finish cooking through. Alternatively, you can grill them.
4
Put a portion of goat cheese on the bottom side of each bun. Warm these portions in the oven to melt the cheese.
5
Top the melted cheese with a tablespoon of the horseradish. Put the cooked patties on the horseradish, then top the patties with the chard and the top of the bun. Serve.