Asian-Inspired Lamb Burger
Here's our mashup of lamb burger and spam musubi. A lamb patty is seasoned with a blend of umami-rich Asian flavors, then cooked and sandwiched between two "buns" of sushi rice with sour Japanese plums. The whole thing is wrapped into a little parcel with nori seaweed. It's playfully delicious!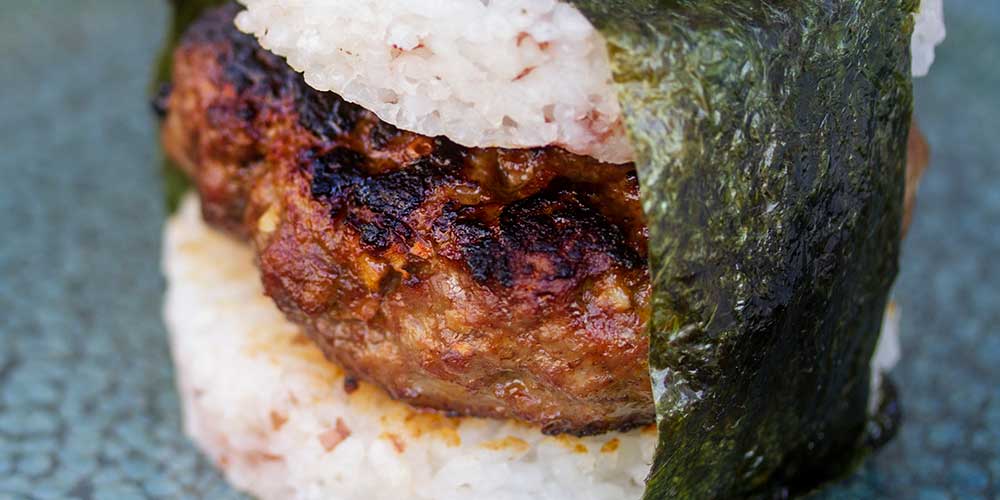 INGREDIENTS
Lamb Patties:
Four 8oz Patties made from Ground Lamb

2 tbsp Oyster Sauce

1 tsp Gochujang Paste

1 tsp Fresh Ginger, peeled & chopped

2 cloves Garlic, smashed

1 tsp Tamari Soy Sauce
Sushi Rice "Bun":

1 cup Sushi Rice

1 cup slightly under ½ cup Water

¼ tsp Salt

4 Umeboshi Plums

4 Dried Nori Seaweed Sheets
DIRECTIONS
Make the Rice for the "Bun":
1a
Use a rice cooker to cook the sushi rice or
1b
Preheat your oven to 350 degrees.
Combine the salt, water and sushi rice in a pot on the stove, bring to a boil, then cover and move pot to the oven for 18 minutes. Remove the pan from the oven and let the rice steam (covered) for five more minutes.
2
Finely mince the umeboshi & stir them into the rice.
3
Cover a small baking pan with plastic wrap and press the rice into it (3/4" to 1" thick). Cover the rice with another sheet of plastic wrap and put an identical pan on top. Press down on the pan to compress the rice and let it sit until it cools.
4
In a bowl mix together all the patty ingredients. Form the mixture back into four patties.
5
Pan sear the patties, then move them to the oven to finish cooking through (internal temperature of 165). Alternatively, grill them.
6
Use a ring mold or cookie cutter to cut round portions of the cooled rice to act as the "buns".
7
Put each burger patty between two rice buns, then wrap it from a thin portion of nori.
8
Move the finished burgers to the oven to warm them through. Serve.