Lamb Burger w/ Preserved Lemon Aioli & Tomato Jam
Makes Four 1/2lb Burgers
WINE PAIRING
Malbec from Argentina
Simple but satisfying, these burgers amp up lamb's savory flavor with umami-packed preserved lemon aioli and a slow-cooked tomato jam.  Both condiments can be made ahead of time, making this a perfect recipe for upscale backyard grilling parties.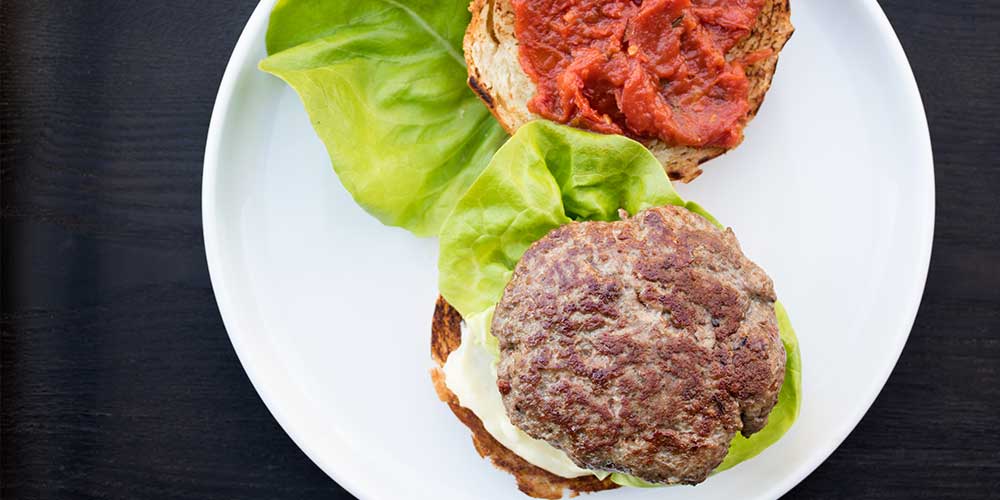 INGREDIENTS
Lemon Aioli:

2 Egg Yolks

1 1/2 tbsp Lemon Juice

1 ½ cup Neutral Vegetable Oil (canola, etc)

1 ½ tbsp minced Preserved Lemon
Lamb Patties:
2lbs Ground Lamb

2 tsp Salt

2 tsp Aleppo Chile

½ tsp Black Pepper
Bibb Lettuce

4 Brioche Buns
DIRECTIONS
2
Season the ground lamb with the salt, Aleppo chile, and black pepper. Form it into four patties.
3
Grill or sear the patties to your desired doneness.
4
Lightly butter the brioche buns and toast them in a frying pan, toaster, or on the grill.
5
Spread some of the tomato jam on the top portion of each bun, and some of the aioli on the bottom portion of each bun.
6
Put a bibb lettuce leaf on top of the aioli, then put the lamb patty on top of the lettuce. Put the tomato-jammed top of the bun on top of the patty, then serve.