WINE PAIRING
Pinot Noir Wine
We made them even more outrageously delicious by adding this White Truffle Gremolata Recipe, but they're also great simply seasoned with salt & pepper.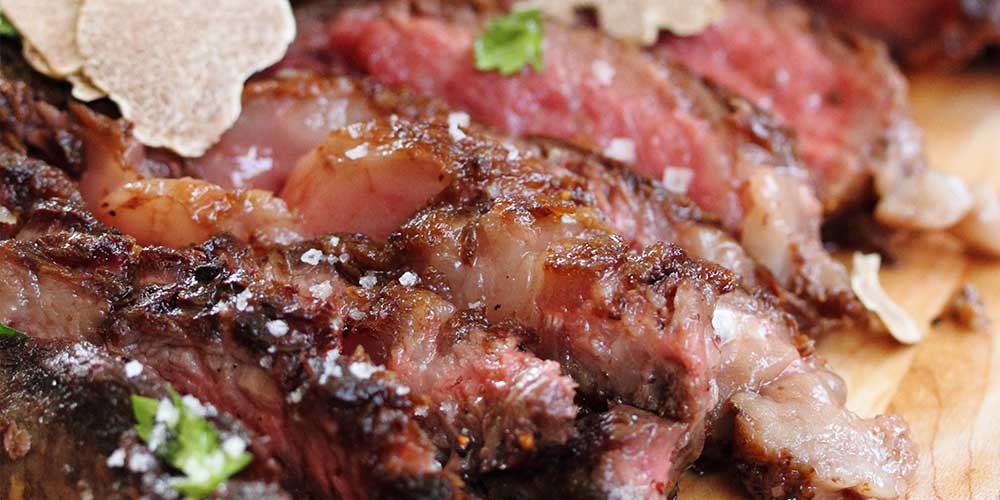 INGREDIENTS
Kosher Salt or Sea Salt

Black Pepper

Grapeseed Oil
DIRECTIONS
1
Let the steaks sit out on the counter until they come to room temperature.  If using pans rather than grilling, preheat your oven to 450.
2
Season the steaks liberally with salt & freshly cracked pepper, rubbing and pressing the seasonings into the surface.  Rub with a little oil.
3
Heat a sheet pan, very large cast iron skillet, cast iron griddle or very large grill pan on the stove over medium, medium-high heat. You can also cook the steaks on a grill.
4
If using a pan or skillet, oil it with some of the grapeseed oil, and heat until it shimmers.  Add the steak & sear for about four minutes on each side.  Move the pan to the oven to cook until it reaches your desired level of doneness (check with a meat thermometer or
using the touch method
).
If using a grill, turn the heat up as high as it will go on one side, and leave the other side off or very low.  Sear the steak on the hot side, then move to the cooler side & close the lid to finish cooking via indirect heat.
5
Move the cooked steaks to a separate pan/plate and lightly tent with foil.  Let rest for ten minutes.
6
Slice the steaks if desired (we recommend slicing tomahawks…they're huge).  Move the steaks on a large plate or wooden cutting board.  Drizzle any juices that have collected on the resting plate over the top.
7
Top with the gremolata, your sauce of choice, or nothing else.  Serve.