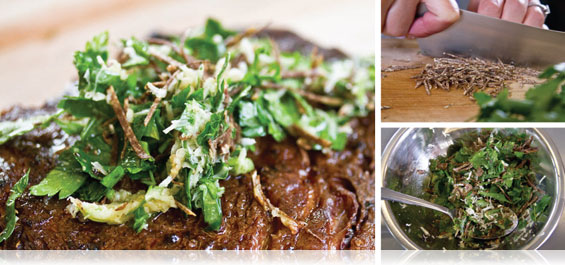 White Truffle Horseradish Gremolata
Gremolatas are blends of herbs (usually parsley), olive oil, and other flavorings (usually garlic & lemon zest) used as intensely flavorful finishing ingredients for cooked meats (traditionally osso bucco).
Herby & herby with a bit of zing from the fresh horseradish, this gremolata is a luxurious addition to cooked meats, elevating them into the culinary stratosphere.
Awesome on steaks (we put it on Kobe Beef Tomahawk Ribeye Steaks) also would be great on other steak cuts, short ribs, prime rib and more.
Ingredients: Makes Enough for 1 Tomahawk Steak or Two Smaller Steaks
1/2 bunch Fresh Flat Leaf Italian Parsley, rinsed & roughly chopped
1/3 oz Fresh White Truffle (we used fresh White Alba Truffles)
1 tbsp Fresh Horseradish Root
3 tbsp Olive Oil
Salt & Pepper to Taste
Directions:
1. Grate the horseradish with a microplane grater, toss with the parsley, salt, pepper & olive oil.


2. Slice the fresh truffle 1/2 mm thick using a truffle slicer or mandoline. Cut the truffle slices into fine julienne sticks. Stir into the mixture.




3. Serve the finished gremolata atop cooked & rested steaks, braised meats, roasted meats, etc.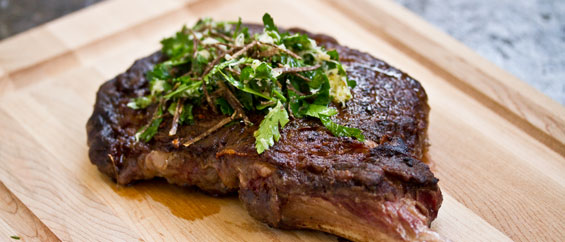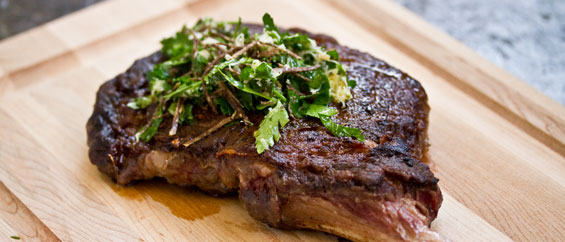 ____________
Browse More:
Orange, Pine Nut, Chive Gremolata Recipe
Fresh Wasabi Gremolata Recipe
Truffle Recipes
Meat Recipes