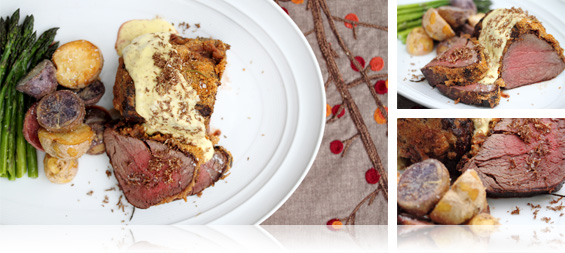 Grass-Fed Beef Tenderloin Roast
Beef tenderloins are incredibly tender, easy to roast, and delicious with sauces.  This recipe adapts a mustard-crusting technique often used with lamb racks to create a roast that has a golden brown color and a crispy crust evoking Beef Wellington without all the rich puff pastry.  You could also adapt this recipe to use Kobe beef.
The flavors in this roast work well with a variety of sauces and sides, but if you really want to blow somebody's socks off, pair it with a white truffle hollandaise and semolina-crusted heirloom potatoes.  The resulting meal is fit for royalty.
Drink Pairing: Full Bodied Red Wine – Cabernet Sauvignon or Zinfandel
Ingredients:                Makes Four Generous Portions or Six Smaller Plates
2lb portion of Grass-Fed Beef Tenderloin (could substitute Kobe Beef Tenderloin)
2 Brioche Buns
3 Sprigs Fresh Rosemary
Smooth Dijon Mustard
Kosher Salt
Black Pepper
Recommended Sauce: White Truffle "Blender Hollandaise" Recipe
(see Meat, Poultry & Seafood Sauce Recipes for more ideas)
Recommended Sides: Broiled Asparagus & Semolina Crusted Potatoes Recipe
Directions:
1. Rinse the tenderloin & pat it dry with paper towels.
2. Let sit out on the counter for three hours, uncovered.
3. Preheat your oven to 350 degrees.
4. Tear up the brioche buns.  Roast in the oven on a baking sheet until crispy.
5. Put the brioche croutons in a food processor and process them until they're bread crumbs.
6. Preheat your oven to 450 degrees.
7. Rub the tenderloin with salt & pepper.
8. Get a pan hot with oil.  Add the tenderloin and the rosemary sprigs. Sear the tenderloin on all sides until it develops a brown crust.
9. Once it's seared on all sides, move the tenderloin (in the pan) to the oven and check its temperature with a meat thermometer in about five minutes to get a sense of how much longer it has to cook.  Continue to roast, checking the temperature and turning the roast periodically.
10. Once the roast reaches an internal temperature of about 105, remove it from the oven.  Spread dijon mustard on each side except the bottom.
11. Pat the brioche crumbs onto the mustard & drizzle some olive oil over the top.  Top with the last rosemary sprig.
12. Return the tenderloin to the oven and start checking it in about ten minutes. For a rare roast, remove the meat from the oven once the internal temperature has reached 118˚.  It will carry-over cook during the rest to rare.  If you'd like a more well-done roast, aim for a few degrees below these target temperatures:
Medium Rare – 130°-135°
Medium – 140°-145°
Medium Well – 150°-155°
Well Done – 160° and above
13. Rest the roast for 15 minutes, loosely tented with foil.
14. Serve with your choice of sides and a sauce.
____________
Browse More:
Roast Recipes
Beef Recipes
Tenderloin Recipes