Hollandaise is a rich hot emulsion sauce that's delicious on eggs, lean fish, and steaks.  Adding the earthy, complex flavor and aroma of fresh white truffles takes it to the very height of culinary decadence, but you could substitute frozen white truffles or omit the truffles altogether.
This emulsified butter sauce isn't technically a true hollandaise in terms of technique, but the end result's pretty similar and it's a heck of a lot faster and easier.
Ingredients:
2 Egg Yolks
1 tbsp Champagne Vinegar
12 tbsp of Melted Unsalted Butter, hot
Pinch of Kosher Salt
1/3oz Fresh White Truffles (we used Fresh White Alba Truffles)
Directions:
1. Combine the egg yolks, vinegar and salt in a blender.
2. Blend the mixture on high briefly.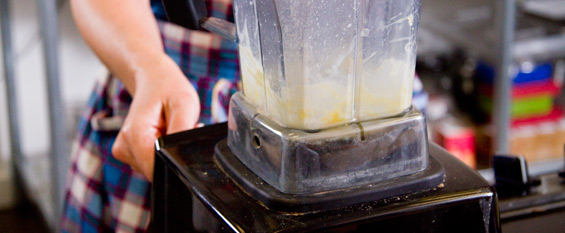 3. Skim the white whey off the top of the melted butter with a spoon.
4. Turn the blender back on, still set to high, and slowly drizzle in the melted butter until the hollandaise reaches the thickness you prefer (you may not need all of it).
5. Move the finished hollandaise to a bowl and use a microplane grater to grate in the white truffle.  Stir to combine.

6. Use the finished hollandaise to sauce your dish.
____________
Browse More:
Truffle Recipes
Meat & Seafood Sauce Recipes
Egg Recipes