Kimchi & Sriracha Kobe Beef Hotdogs
DRINK PAIRING
Belgian Style Ale or Shoju
Super beefy kobe dogs with two different layers of heat from the aioli and kimchi. The kimchi adds a nice crisp, juicy crunch too.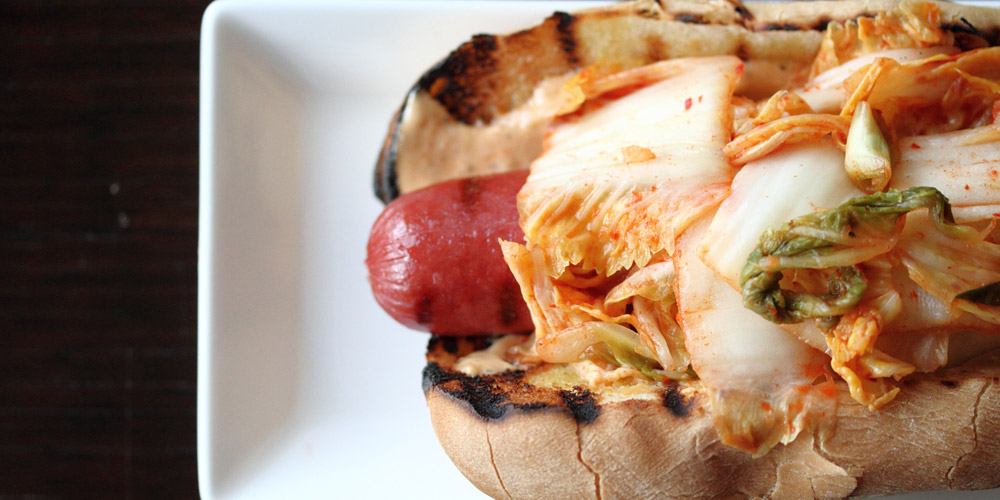 INGREDIENTS
Sriracha Aioli
1 cup Mayonnaise or homemade mayonnaise (3 eggs, 24oz olive oil & two pinches of salt)

1 ½ tbsp Sriracha

1 tsp Chile Powder (we recommend using homemade chile powder or single variety chile

powder rather than a blend, so you control the flavor)
DIRECTIONS
1
Mix together the mayonnaise, sriracha & chile powder. Store the resulting aioli in your refrigerator until you're ready to use it.
2
Clean & oil your grill.
3
Brush your hot dog buns with olive oil.
4
Grill the hot dogs & the buns.
5
Brush the buns with the aioli.
6
If the kimchi is still cold from being in your refrigerator, heat some of it up in a frying pan.
7
Put the hotdog on the bun and top with some of the kimchi. Serve.