Makes 4 Appetizer Servings
This is one of my 'shroom standbys. Easy and delicious.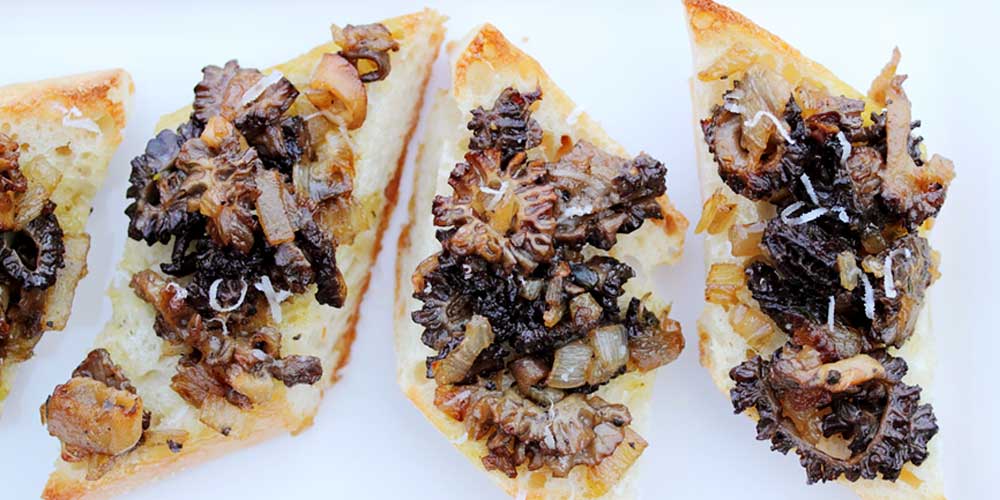 INGREDIENTS
1/2lb of any variety of Fresh Mushrooms, chopped. In the photo, we used Fresh Morel Mushrooms, which were fabulous

1 large Shallot, fine diced

Leaves from 2 sprigs of Fresh Thyme

1 splash Sherry Vinegar

1 tbsp of Unsalted Butter

Parmigiano Reggiano to taste
Truffle Oil (optional)

Fresh Baguette
DIRECTIONS
1
Add the butter to a saute pan (preferably cast iron). Once it melts, add the shallots and saute them over medium heat until they lightly brown, stirring occasionally.
2
Add the mushrooms, thyme, salt and pepper and saute until the mushrooms have released their liquid.
3
Add the sherry vinegar and saute for a few minutes more.
4
Top slices of baguette with the mixture, move to a baking sheet in the oven and broil until the bread has crisped/toasted.
5
If you have them on hand, grate Parmigiano Reggiano over the top and drizzle on a little truffle oil.